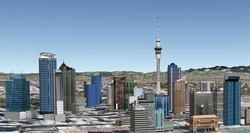 Don't be left behind. Allow your business to literally stand out in 3D on the geographic web.
(PRWEB) September 14, 2010
Buildings are three dimensional, and it can be hard to communicate them effectively when the web is largely two dimensional. Estate3d.com offers a solution. For just $99 you can have your building in 3D for the whole world to see and interact with.
The geographic web is coming along in leaps and bounds. The location of everything is becoming relevant thanks to tools like Google Earth. Soon anyone will be able to find anything from anywhere. It is therefore important for a successful business to stand out to potential customers. Differentiation from the crowd is essential. Allowing users to view, interact with, and locate a building in 3D gives it immense relevance to the real world.
The Estate3d process is simple; take photos of any building, create an account at estate3d.com and upload the photos, pay the $99 fee and locate the building with estate3d's simple building location finder. Once the photos have been taken its an easy 5 minute process. 3D buildings are created in less than 1 week. The building will then be "live" in Google Earth and able to be embedded on any website.
Don't be left behind. Go to estate3d.com today to stand out in 3D on the geographic web.
###