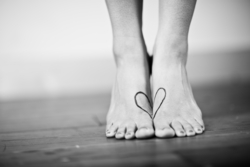 an empowering and inspirational journey for women of any age, shape or size
Tempe, AZ (PRWEB) September 15, 2010
In celebration of the October 2010 National Love Your Body Day Express MiE Fitness & Beauty, a women's dance fitness studio in Tempe, Arizona, is hosting a "Love Your Body NOW" workshop and photo shoot with special guest speaker Amber Krzys. Krzys is the founder of the Body heART Campaign whose mission is to empower women to embrace their natural beauty.
Christie Simmons, owner of Express MiE, says the workshop will, "give women the tools they need to accept and love their body exactly as it is now, which can and will completely change each woman's life." She selected the Body heART Campaign to partner with for this annual celebration because of the success Amber Krzys has had in helping women in the Los Angeles area. Her clients tout her work as "an empowering and inspirational journey for any woman of any age, shape or size" and state she has "truly inspired me to see my body through a new filter of love and appreciate ALL of who I am." The Express MiE company mission is to help women develop self confidence and this workshop does just that. It is a perfect expression of their pledge to help women "put a little "i" back in me."
The two part event will start on Saturday, October 9th with the Love Your Body NOW workshop from 10AM until 6 PM. Krzys will work with participants on their struggles with body image, meeting and understanding their bodies' needs, finding appreciation for their bodies and ways they can continue to take action to love their own beauty. Participants will have the opportunity to join in the Body heART Campaign with a free, thirty minute private photo shoot on Sunday October 10th. Krzys will draw hearts on the faces and favorite body parts of participants, take the photos and then add them to her beautiful collection of untouched black and white photography.
Women who are interested can register for the event at http://www.expressmie.com or by calling Express MiE at 480-626-5973. The workshop fee is $99 if purchased by September 25th, and $125 thereafter.
Express MiE is a dance fitness center in the greater Phoenix area that is dedicated to developing self-confidence in women. They are passionate about making sure that working out is so much fun that women can't help but to do it – and do it often. By offering fabulous, fun fitness classes, sensual pole dance classes for the everyday woman, couples social ballroom, women's wellness workshops and 1:1 fitness, movement & beauty lessons they help women discover their inherent beauty and express themselves in harmony with who they are as a fabulous, unique individual.
###