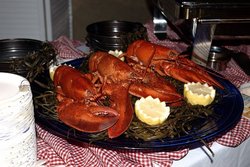 Each year the Flavors of Freeport festival has grown to be bigger and better.
Freeport, ME (PRWEB) September 27, 2010
The 2011 Flavors of Freeport festival will take place March 25 & 26 in Freeport, Maine. The event will feature the consistently popular Chef's Signature Series, featuring delicious offerings from local restaurants, specialty food purveyors, and bed and breakfast inns. There will also be samplings from local wine distributors, beer from micro-breweries, and spirits.
"Each year the Flavors of Freeport event has grown bigger and better," said Monica Kissane, chair of the 2011 Flavors of Freeport committee of Destination Freeport. "We're expanding it again this year, to include larger events and more of the flavors that people would like to sample."
Every year Destination Freeport invites visitors and members of our community to a wonderful weekend filled with fabulous food, distinguished drink, great music and the excellent hospitality of Freeport. Flavors of Freeport encourages people from away, and not so far away, to come to Freeport, stay for the weekend, and explore what varied Flavors exist in Freeport.
Destination Freeport is a volunteer organization, formed to promote activities to attract overnight visitors to the Freeport area. Flavors of Freeport is a committee of Destination Freeport, whose purpose is to plan, organize and host the annual Flavors of Freeport festival.
###