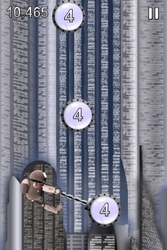 "Flingy is an exciting and addictive game that, whilst easy to pick up and play, is designed to offer an ever-increasing challenge that will keep you coming back for more!" Dustin Williams, Cogniflame Founder & CTO
Brisbane, Australia (PRWEB) September 27, 2010
Cogniflame Pty Ltd, an independent developer of games for Apple's range of handheld devices, is pleased to announce the forthcoming release of 'Flingy'.
Help return Flingy the cute robot to his own world of Robotopia by swinging around points, propelling him ever upwards. Swing around special points for extra boost, score increases, additional rocket power and more.
Just be careful not to lose your momentum or Flingy will fall back down into the abyss and Game Over!
The game features:

Multiple levels with continuous art and original music that changes as Flingy gets higher and higher
Special boosts, timed spheres, rockets and more!
Online score-keeping through OpenFeint.
Social integration with Twitter and Facebook
Novel gameplay and realistic character physics
Flingy is a fun, pick-up and play arcade title designed to keep you coming back for 'just one more go!'
Paul Francis, Cogniflame CEO, said: "we're very proud of Flingy and excited to not only have created a fun, immersive game but an excellent platform and main character that will provide fantastic opportunities for future releases. Watch this space!"
The game is scheduled for release in early October 2010 and will be available on the Apple iTunes store. Check the website for more details.
About Cogniflame:
Based in Brisbane, Australia, Cogniflame Pty Ltd was established in September of 2009 by Founder & CTO, Dustin Williams. Our vision is to create unique, creative, high-quality mobile gaming experiences.
# # #