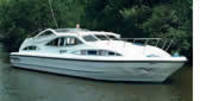 (PRWeb UK) September 14, 2010
Richardson's Group is a family run business in the leisure industry. Established for over 60 years Richardson's own the largest fleet of cruisers on the Norfolk Broads. Richardson's has boatyards based at Stalham and Acle. Richardson's has over 300 boats making it the largest operator for Norfolk boat hire on the Broads.
2009 saw a big change for Richardson's boating holidays with investment into our website and the introduction of an online booking system in February. Working with online marketing specialist, Further Search Marketing, the website was completely redesigned and re launched. SEO and PPC work was also undertaken by Further to ensure Richardson's boating holidays can be located easily through search engines. The new website and SEO work has led to a 35% increase in visits to the website in July 2010 compared to 2009 and a 40% increase in online revenue for the same period. Since its launch in February 2009 the new site has delivered over £2.5 million in revenue, over 3,500 bookings, 9,500 enquiry forms and 8,000 brochure requests.
This online work along with a strategic marketing plan and branding exercise as well as continued high standard of holidays meant Richardson's saw a record year for its boating holidays in 2009. Tariff was up 13% in 2009 compared with 2008. For the first time ever Richardson's took a larger share of bookings when compared to its agent with 55% of bookings being taken directly by Richardson's. In fact direct bookings were up a massive 37% in 2009 when compared with 2008. 2010 looks like it could beat the 2009 record with direct bookings currently up 25% on 2009 and overall bookings currently up 8%.
This increase in business has encouraged Richardson's to invest in developing a new hull and superstructure for next summer as well as buying 28 boats from France this season. An extra 12 people have been employed on the yard at Stalham to work on building these new boats.
The Norfolk Broads are Britain's finest and best loved holiday boating location. A Richardson's boating holiday provides holidaymakers with unique scenery, access to wildlife, watermills, windmills and fantastic pubs and restaurants.
Richardson's is special because the family has been associated with boats for over 5 generations and that is something to be very proud of. Richardson's has customers who have been holidaying with them for over 25 years and as stated general feedback is of a high standard with many rating their holiday, our staff and our boats as excellent. The company also has a range of holiday villages which are highly regarded destinations for holidays in Norfolk and the South Downs.
###