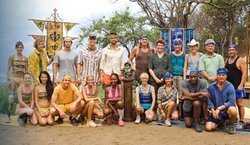 New York, NY (PRWEB) September 15, 2010
Based on their names, and the research of Personality Profiler Kerri Hopkins; Creator of Namezook.com - which of these 20 Cast Members of Survivor Nicaragua will be the Most Competitive, Most Annoying, Most High Maintenance, Best Looking, Friendliest & Funniest to watch???

Chase, Jud, Alina, Jill, Sash & Tyrone will want the hut that has the mirrors, laser hair removal and spray tan machines. Based on their names, these people love to look good & will most likely win The "Eye Candy Award" - they'll be the Hottest Inhabitants of the island.
While I won't say they'll be lazy – I will say that Brenda, Jimmy J and Wendy Jo will be selectively active.
In between looking for the Hidden Idol, I'm sure Kelly S, Kelly B, Holly, Marty, Yve, Jud & Dan will be most likely to start a Salsa Line Dance or find a Volcano Party Lounge. If one exists, I'm betting on one of these people to find it first – they just love a good time.
Don't trust Shannon, Alina, Dan, Jill, Tyrone, Sash or either of the Jimmys as far as you can throw them – they're there to win. They'll talk out of both sides of their mouth & think quick on their feet. Their use and exploitation of networks, allegiances & alliances will be so shrewd, so strategic and so convoluted that everyone of them – will test positive for B.S.
Yve, Wendy Jo & Dan will keep things interesting on the island because their commentary will be funny – they're not afraid to say what everyone else is thinking. It's like they have "gossip dyslexia" – they tend to gossip in FRONT of other people's backs.
Brenda, Ben, Jane, Jud will be particularly secretive & observant. They'll know everything about everyone else, but people will know little about them. They'll be clever when coercing people into doing things their way by making people feel obligated to them. They could be travel agents for "guilt trips".
If you want to know more about YOUR NAME or to find out how Competitive you'd be or how good of a Roomie you'd be on a reality show .. go to http://www.namezook.com.
###