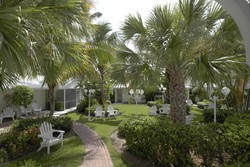 "Salt is a natural way to relieve skin conditions and respiratory ailments," says Andrea Geresdi owner of The Salt Cave of Naples, Florida
(PRWEB) September 15, 2010
Lemon Tree Inn along with The Salt Cave of Naples, Florida is offering a "Salt of Life" package that offers more than 40% in savings. The special package includes two nights at Lemon Tree Inn and three-part spa service at the Salt Cave. The spa treatments developed for this package include a lemon wrap body wrap, infrared sauna with lemon grass and a salt session. The package rate is $310 for two people now through December 14, 2010 and $388 December 15 through April 14, 2011. Taxes and gratuities are additional. To book call Lemon Tree Inn at 888-800-LEMO.
"Salt is a natural way to relieve skin conditions such as acne, eczema as well as a range of respiratory ailments, including colds and allergies," says Andrea Geresdi owner of The Salt Cave of Naples, Florida, "Use of saline is not unusual. When sick, people often gargle with salt water and doctors highly recommend cleansing the nose with salt solutions to relieve allergy and cold symptoms. A salt room takes the cleansing to a new level." Salt rooms, also called halotherapy chambers, are salt-coated from wall to ceilings and even the floors have fine salt grains covering them.
"Lemon Tree Inn is a creative, unique hotel and we always like to partner with professional companies that help people relax, feel better and enjoy life," stated Sid Kalmans, co-owner of Lemon Tree Inn, "Andrea Geresdi and her team at The Salt Cave developed lemon-infused therapies for our package and the essence is like being on the beach enjoying the salt air with refreshing glass of lemonade. It is pure bliss."
The Lemon Tree Inn is a locally owned boutique hotel with a Caribbean spirit. Guest rooms open up to a lush, courtyard garden speckled with colorful Adirondack chairs and tropical foliage. Caribbean inspired décor from four-post mahogany and wicker sleigh beds to the carefully chosen artwork create a unique island theme in each guest room. Continental breakfast is served poolside and cold lemonade is available all day. Guests may rent bicycles for a quick ride to the beach, or explore fabulous shopping, galleries and restaurants located within walking distance just a block from the Inn. For more information or to book a reservation, call 888-800-LEMO or visit http://www.LemonTreeInn.com.
###