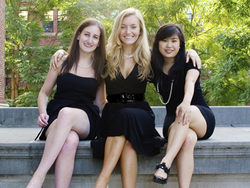 "We look forward to meeting and sharing our vision with the event's many passionate and dedicated leaders."
Cambridge, MA (PRWEB) September 14, 2010
Her Campus (http://www.hercampus.com) founders Windsor Hanger, Stephanie Kaplan and Annie Wang will speak as featured panelists on the Young Innovators panel at the first Women: Inspiration & Enterprise (WIE) Symposium on September 20 in New York City.
Hosted by Huffington Post founder Arianna Huffington legendary designer Donna Karan, and White Ribbon Alliance Chairwoman Sarah Brown, the WIE Symposium features high profile female role models and prominent experts from the worlds of politics, arts, media, business and philanthropy. Her Campus was tabbed for the founders' outstanding work launching a digital media platform that caters to college women, a demographic that until recently had been largely ignored by the mainstream media.
Among the WIE Symposium speakers:
Queen Rania – Queen of Jordan
Ashley Judd - Actress
Lauren Bush – Designer and Model
Christine Beauchamp – President, Ann Taylor Stores
Bobbi Brown – Founder of Bobbi Brown Cosmetics
Christy Turlington – Film Maker and Model
Cathie Black – Chairwoman of Hearst
Secretary Ann Veneman – Former US Secretary of Agriculture
Dana Perino – Former White House Press Secretary
Lisa Stone – Founder of BlogHer
Caterina Fake – Co-Founder of Flickr
"It is an honor for Her Campus to be a part of an event of this magnitude with so many inspirational women," said Co-Founder and CEO Stephanie Kaplan. "We look forward to meeting and sharing our vision with the event's many passionate and dedicated leaders."
The Her Campus Founders will sit on the Young Innovators panel with American Idol winner Jordin Sparks, designer and Campaign Activist Katherine Schwarzenegger, the daughter of California Governor Arnold Schwarzenegger, Tavi Gevinson, Founder and Editor-in-Chief of TheStyleRookie.com, Natalia Allen, Founder of Design Futurist and Soraya Darabi, Co-Founder of Food Spotting. The panel will be led by television personality June Sarpong of TruTV.
Her Campus writers from across the country will also have a presence as special invited "50 Young Champions for Women" guests for the event. These include Marissa Govedarica from the University of Illinois-Chicago, Gennifer Delman of Hofstra University, Devin Tomb, a 2010 graduate of Penn State University, Kara Ktona a graduate of Emmanuel College and current Her Campus intern and Rachel Peck of Barnard College.
The WIE Symposium will take place at Skylight West (500 W. 36th Street) and ticket packages can be purchased through the WIE Network website (http://www.wienetwork.org). Requests for media can be made through Publicity Specialist Jake Duhaime at 617-285-8087 and by email at jakeduhaime(at)hercampus(dot)com.
About Her Campus Media LLC:
Her Campus (http://www.hercampus.com) is an online magazine for college women that individualizes its content college-by-college by establishing My Campus branches at schools across the country. With national content on Style, Health, Love, DormLife, and Career, supplemented by campus-specific content from 50+ colleges and universities, Her Campus serves as a hub for everything college women need to know about today.
Her Campus is written entirely by the nation's top college journalists. Since joining the Her Campus Team, Her Campus writers have been offered jobs and internships with the American Society of Magazine Editors (ASME) Intern Program and at Seventeen, Glamour, Teen Vogue, Marie Claire, InStyle, Harper's Bazaar, Hearst Digital Media Teen Network (Seventeen.com, CosmoGirl.com, DonateMyDress.org), O magazine, Reader's Digest, Details magazine, Us magazine, and Star magazine, among others.
# # #