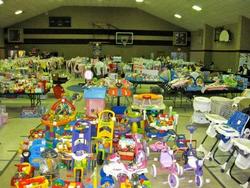 There is usually a line of more than 75-100 people on our opening day. Everyone eagerly awaits their chance to shop.
Fort Lauderdale, FL (PRWEB) September 24, 2010
Between October 15-17, 2010 over 800 parents and kids will flock to a large gymnasium overflowing with bargains on upscale kids clothing, toys, furniture, & more. In a time when people are deciding whether to cover the light bill or food, the Lolliposh Consignment Sale & Bazaar offers shoppers the ability to buy items that would normally cost a fortune; for just pennies on the dollar. It also offers consignors the ability to turn over their gently used or new, boutique-worthy items for some much needed cash.
The sale in October is the fifth in a series of successful events for the franchise and is the fourth one being held at the Jewish Community Center located at 6501 W. Sunrise Blvd., Plantation, FL 33313. Until this point, the sales have been held in the Broward County area of Florida, though Lolliposh is looking to expand into Miami-Dade and Palm Beach Counties within the next year.
Potential consignors should keep in mind that this is no garage sale, so items need to be in nearly new to new condition, but there is a potential to earn up to 75% of the selling price. Shoppers can expect to save anywhere from 60-90% off the retail price. With prices like that, it's no wonder that local mom's groups and families come in droves. "There is usually a line of more than 75-100 people on our opening day. Everyone eagerly awaits their chance to shop," according to Alejandra Marrero-Brelage, one of the co-founders.
The "Bazaar" portion of the event comes in, as the sale also features 30 locally owned businesses offering products and services geared towards the mommy market. Another event feature is the new & expecting mom pre-sale on Oct. 14th from 6pm-8pm, offering the first crack at the inventory of over 20,000 items. According to the New Mom Expo, "Parents spend over $20,000 during the first year of a child's life." Considering this, Lolliposh offers new & expecting parents the chance to save big on items such as strollers, cribs, highchairs, clothing, & toys. It even offers some items for the moms, like maternity-wear. The fall pre-sale is being sponsored by Happy and Healthy Mom.Com, another locally-owned business which offers an online magazine and social network targeting new and expectant moms. The first 25 to register have a chance to receive free facials, massages, giveaways, VIP swag bags, & more.
The Lolliposh Consignment Sale & Bazaar, founded in 2008, is a seasonal sale held 2-3 times per year in South Florida. It offers the public the opportunity to buy and sell BRAND NEW and GENTLY USED, BOUTIQUE and BRAND NAME clothing, toys, furniture and accessories for babies, kids, and now, expectant mothers. Lolliposh is the vision of three South Florida moms and good friends: Lina Uribe, Juliana Ruiz and Alejandra Marrero-Brelage. For more information, please visit http://www.lolliposh.com.
###