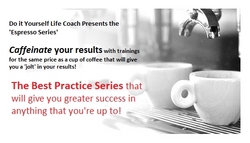 What would it be like to have your own coach to give you a 'jolt' in your results for less than the price of a specialty cup of coffee?
Highland Park, IL (PRWEB) September 15, 2010
Do it Yourself Life Coach is a virtual coaching experience designed to provide life coaching for anyone who wants it whether they can afford one on one live sessions with a coach or prefer virtual lessons via email or video online. The Espresso Series is particularly focused on people who are results driven, whether in sales, as a solo business owner or a private individual who wants to handle a project or schedule more efficiently.
Each of the topics in the series is delivered in a format that recreates the seminar room, with a whiteboard, a knowledgeable coach, a fun and informative visual scheme and accompanying handouts when appropriate. Topics range from personal or productivity self-assessments to time management, scheduling, planning and strategy sessions. All of the materials are original and unique with proven results from a nationally known executive coach, James M. Lynch, author, columnist and strategist.
Each topic is delivered in video format, with handouts available, and can be viewed in private via computer, downloaded to MP4 or other format, and are under 30 minutes in length. The material is simple, straight and common sense, offering just that 'boost' that you get to move you to the next level of production, create a breakthrough in results and achieve a new level of production.
Trainings that follow a coaching model for business, life, relationships and communication in a variety of formats, live one on one or via email, or just one shot ideas that are delivered in the many free articles in the 'lobby section' of Do it Yourself Life Coach are also available and, in keeping with the goal to make business and life coaching available and accessible to all, are priced at levels that anyone can afford, no matter what their budget.
James M. Lynch is an author of two books including The Hamlet Secret: A self-directed journaling Workbook for living a passionate, joy-filled life, and Don't Hire a Life Coach (Until You Read This Book), is a regular contributor to several online e-zines like The Huffington Post, Biznik, EZine, etc. and is an executive coach who specializes in creating a culture of success with small to medium sized companies, including family owned businesses, on the executive and ownership level, plus teaching best practices to sales teams for maximizing potential and results.
Visit the Video Store at http://doityourselflifecoach.mindbites.com/
###