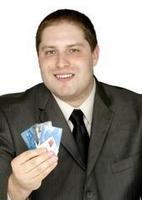 Merchants who aren't our clients are subjected to an increase of up to 20% of total monthly fees
West Palm Beach, FL (PRWEB) September 14, 2010
Every April and October businesses across America shudder as they read over their credit card processor's lengthy and confusing list of scheduled rate increases that merchants are due to receive beginning October 1st. Even the newly passed Congressional legislation aimed to protect merchants does not mention anything about preventing rate hikes, according to merchant rights advocate Robert Livingstone, president and founder of IdealCost.com, a consulting firm that reduces credit card acceptance fees for merchants without switching their existing provider.
"Merchants who aren't our clients are subjected to an increase of up to 20% of total monthly fees," said Robert Livingstone, president of IdealCost.com. "This is hardly the economic time for merchants to be subjected to paying more fees. Most merchants can barely tolerate the fees that they currently pay."
For months Livingstone has voiced his opinion strongly over the vague recently passed interchange amendment in the financial reform overhaul.
"According to our government, this reform was supposed to be the end all of unreasonable merchant fees Clearly, credit card processors did not blink and went ahead with October's rate increases," he said.
IdealCost.com's founder also asks: "Where is the accountability to American business owners? These credit card processors announce their rate increases on their merchant statements in tiny print. There is never an explanation of how each rate increase affects businesses in plain English. It is only printed in industry jargon, which no one outside of the merchant services industry could understand.
Effectively, non-IdealCost.com clients have no choice but to accept these rate increases.
About IdealCost.com
Founded in 2008 in West Palm Beach, FL, IdealCost.com's mission is to protect large business owners from being taken advantage of by their credit card processors. Until now, merchants haven't had a viable solution to receive truly reasonable rates and fees.
IdealCost.com is different from other companies because it is paid only from the savings that it generates for clients. This performance-based guarantee makes clients feel at ease because traditional credit card processing salesmen are paid a commission even when they raise their client's rates and fees.
The company represents the merchant rather than acting as an agent for the banks or credit card processors. IdealCost.com performs merchant account audits and offers consulting services. The company strives to separate itself from the stigma of the credit card processing industry. IdealCost.com allows business owners to stop worrying about their merchant account and return to more important matters in their businesses such as sales, customer service, and providing for their families.
Contact:
Robert Livingstone
President/Founder
IdealCost.com
931 Village Blvd # 477
Suite 905
West Palm Beach, FL 33409
P: (877) 9-IDEAL-9
P: (561) 319-8349
http://www.idealcost.com
###