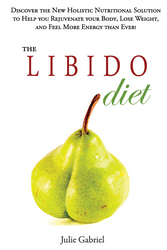 Achieve a lifetime of sexual wellbeing in a holistic way with scientifically proven diet loaded with libido-boosting nutrients.
New York, NY (PRWEB) September 15, 2010
How many people can honestly say they are happy with their love life and their body's ability to enjoy sensual pleasures? If someone seeks medical advice for low libido, they would be prescribed conventional medications that treat the symptoms and not the real cause of low libido.
What if someone created an eating plan that's easy to stick to for life, that's good for the heart, brain, and hormones, and that helps shed some extra pounds in a sustainable, holistic way?
In The Libido Diet (ISBN 9780956355850, February 2011, 344pp. paperback) holistic nutritionist Julie Gabriel offers a nutritional breakthrough. The new nutritional plan is loaded with the secret ingredients and food combinations found in traditional diets consumed by men who have healthy sexual life until 90 years old and women who do not suffer from menopause and remain youthful, lively, and vibrant without hormonal replacements.
The latest findings in the nutritional science and the holistic approach to wellbeing merge into the scientifically sound yet perfectly "edible" nutritional solution to intimate health issues, such as low libido, erectile dysfunction, and weak sexual desire.
The Libido Diet is a sustainable, practical, and thoroughly researched nutritional plan to help us enjoy life at its fullest without medications. This book explores the sexual life enhancing properties of the diet rich in scientifically proven age-rewinding phytochemicals and their abilities to revitalize body and mind. It offers a balanced blend of modern medical knowledge and centuries-tested information about the subtle yet powerful ways the diet, nutrition, and exercise can be used to help strengthen immune system, rebalance hormones, improve circulation, expand body-mind connection, and even reverse aging.
The Libido Diet enhances vitality, improves our emotional state, promotes mental clarity, and of course it helps lose weight. Here is where The Libido Diet can help:

Prevent and alleviate health conditions such as erectile dysfunction, low sexual desire, and inability to achieve orgasm;
Helps to lose weight without feeling hungry, in a most natural pace without fad diet gimmicks or tricks;
Mobilize the army of heart-protecting, hormone rebalancing antioxidants to boost sexual vitality and help protect against hormone-related cancers;
Rejuvenate and revitalize the skin, nails, and hair;
Feed the brain with the nourishment it needs to maximize the lovemaking potential.
Can love be measured in teaspoons and calories? Of course! The book contains 50 delicious recipes adapted from the culinary traditions of countries where people have ten times lower incidence of impotence and infertility than in the Western world. The Libido Diet is based on centuries-long, time-tested traditions of some of the most flavorful world cuisines, especially those of France, Italy, Turkey, Cyprus, Greece, and other Mediterranean and Middle Eastern countries.
The Libido Diet can be the way to walk out on medications in the quest for passionate love and sensual delights. The reader can lose weight, prevent many cancers, and find an easy and enjoyable way to maintain a healthy lifestyle while consuming easily available, inexpensive, wholesome foods that promote sexual wellbeing.
The Libido Diet is the new way to achieve lasting pleasure and a lifetime of sexual wellbeing.
The Libido Diet is released on Valentine's Day (February 14, 2011) by Petite Marie, UK-based publisher specializing in books on beauty and holistic nutrition. The book will be distributed in the United States and Canada by INGRAM.
Early copies of the book are available for reviews.
To support The Libido Diet, Julie has created a sensual EROVITA Organic Massage Oil loaded with pheromone-boosting natural ingredients and pure rare botanicals to help relax, unwind, and ease tension. Samples are available for reviews and reader giveaways.
ABOUT THE AUTHOR
Julie Gabriel is a Canadian holistic nutritionist and a journalist. She worked with WWD, Harper's Bazaar, L'Officiel De La Mode et De La Couture, and Atmospheres. When Julie became pregnant with her daughter, she embraced green, organic living and studied as a Holistic Nutritionist in the Canadian School of Natural Nutrition in Toronto.
In 2008 Julie has written THE GREEN BEAUTY GUIDE: Your Essential Resource to Organic and Natural Skincare, Hair Care, Makeup and Fragrances (HCI 2008). This book became the first comprehensive guide into organic and natural beauty products. The book and Julie's own organic skincare line were featured in Elle, USA Today, Natural Living, Real Simple, Natural Home, Body+Soul, Organic Beauty, Plenty, About.com, Chopra.com, and on Martha Stewart Living Radio.
CONTACT INFORMATION:
For book copies and samples of EROVITA oil, please contact:
Julia Fulton-Jones, Marketing & PR, Petite Marie Ltd
WEBSITES:
http://www.juliegabriel.com, http://www.petitemarie.co.uk
###