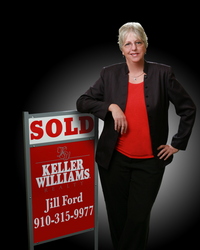 Jay Papasan, Keller Williams VP explains what it takes to get a home sold in today's market. "Remember, buyers arel looking for steals and deals, they are . . .spoiled with choices."
Pinehurst, NC (PRWEB) September 14, 2010
Jill Ford, one of the leading agents in the Pinehurst North Carolina Keller Williams office is heading to Austin today to attend Keller Williams Mega Camp, a mid-year opportunity to learn about the latest tools and trends in the real estate industry. Jill will be attending both Mega Technology Camp and Mega Agent Camp over her three days in Texas.
"In my nearly 25 years in the real estate profession, there has never been a more important time to stay ahead of the trends in this business. MEGA CAMP gives me an opportunity to learn about the best, from the best. It wasn't that long ago that the sharpest agents were starting to talk about what the internet was going to do to our business. Find your way on the web or find a job! The web was going to change everything. Fast forward ten years or so and we find those predictions were spot on. The web HAS changed everything, and technology continues to evolve. Tools and techniques for utilizing the power of the internet are developed and refined ALL THE TIME."
Keller Williams is driven to keep its agents informed and aware of the trends, the tools and the necessary
skills needed to master the power of the World Wide Web. In February, the annual Family Reunion is crammed with learning opportunities, and now in September, Mega Camp comes along to provide a refresher. "Getting plugged in to what the most successful agents in the country and Canada are doing to get homes listed and sold is vital to the success of my business, and Mega Camp offers me an opportunity to do just that. I love the energy that comes from Keller Williams events. It is an energy that flows from feeling confident that you have the VERY BEST tools and skills to offer your clients."
Check out this video of Jay Papasan, Keller Williams Vice President, explaining just what it takes to get a home sold today.
###