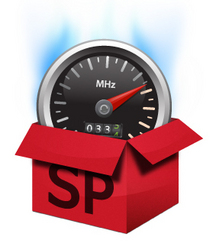 Scottsdale, AZ (PRWEB) September 14, 2010
Internet users curious about the speed of their broadband connection can now benefit from a time-limited offer from PC performance specialists, Uniblue. Uniblue is the developer of several award-winning PC utilities that can keep a computer functioning at optimal levels:

RegistryBooster – keeps a Windows registry clean and free from errors
SpeedUpMyPC – improves overall PC performance
DriverScanner – ensures all drivers are kept up to date
PowerSuite – all three of the above in one package
Measuring Internet connection speed is an important part of system maintenance. The free tool available from testinternetspeed.org does this quickly and easily by measuring file upload and download times and then generates a report on the findings. From the results, it can be seen if Providers' connection speeds are as advertised – if not, something could be amiss, and it could be worth contacting the broadband supplier to investigate further.
For the next month, those who choose to take the Internet speed test will also be able to obtain a full 12-month licence of SpeedUpMyPC, worth $29.95 for free. SpeedUpMyPC analyzes the computer to point-out issue that are causing slowdown before recommending improvements that can be implemented with a single click. Having taken the speed test, users can follow the links on the site directing them to a dedicated download page in order to take advantage of the offer.
To take advantage of this exclusive offer, take the test at http://testinternetspeed.org/.
About testinternetspeed.org
testinternetspeed.org is a website that was launched in 2009 to provide PC users with tips and tricks for Windows. Now with a free tool to test internet connection speed, the website aims to help the PC users worldwide. For more information, contact the team at info(at)testinternetspeed(dot)org.
###