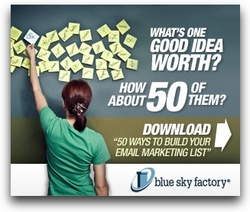 Got an email marketing program that's just not growing as fast as you want? Grab this free eBook and get started!
Baltimore, MD (PRWEB) September 20, 2010
Want to get some email marketing campaigns off the ground but aren't sure where to start? Got an email marketing program in place but it's not growing as fast as desired? Blue Sky Factory has published 50 Ways to Build Your Email Marketing List, a new free eBook that will help marketers grow their lists at a phenomenal rate.
What's in the book? It's full of tips for building an email list, broken out into 6 categories:

Social media
Web and website
Email campaigns
Offline
Mobile
Email marketing strategy
Each section is filled with bite-size tips that marketers can try out in their own programs. Some will be just right for any organization, while others may be ideas to put on the shelf until a later date. Try them out and see what works! Plus, there's a printable "cheat sheet" that includes all 50 tips so they can be hung up at a desk.
The eBook is available in PDF format and can be downloaded for free by clicking here.
Blue Sky Factory is an industry leading email service provider. Through their web-based email marketing application Publicaster and commitment to exceptional client services, Blue Sky Factory helps companies grow their business through email marketing. By integrating their online platform with industry-standard tools including Google Analytics, Salesforce.com, and prominent social networks like Twitter, Facebook, and LinkedIn, Blue Sky Factory provides marketers with the tools they need to create, deliver, and track full customizable online marketing campaigns. Founded in 2001, Blue Sky Factory works with clients in industries including tourism, communications, education, entertainment, finance, government, healthcare, retail, and technology. Visit http://www.blueskyfactory.com or call 866.216.2583 for more information.
###