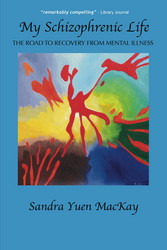 It is imperative that we take in the lessons she is imparting to us all, on how to manage, and in many ways triumph over chronic mental illness. Julie Holland MD author of Weekends at Bellevue: Nine Years on the Night Shift at the Psych ER
(PRWEB) September 15, 2010
Vancouver artist, Sandra Yuen Mackay, has struggled with the symptoms of schizophrenia and with the effects of the medications that she needs to keep the symptoms under control from the age of 15 . Now in her 40's, Sandra is married, a successful artist, writer and an advocate for improving the knowledge about this disease.
Ms Mackay" vividly re-creates her world of schizophrenia introducing readers to a whole new stratum of perception" according to Library Journal. She finds her salvation through art and writing and she learned to capitalize in her creative insights gleaned from her bouts with mental illness. It is an enlightening portrayal of her illness, hospitalizations, relationships, therapeutic activities and quest for recovery. It will hold readers captive. The book, they said, "provides a surprisingly gripping narrative similar to An Unquiet Mind written by Kay Redfield Jamison.
Best selling author and psychiatrist, Julie Holland, said that "there are precious few people who have experienced psychosis and can convey it accurately, clearly and concisely. Sandra Mackay's story is an important one for all of us in the mental health field - doctors, patients and their families."
David Laing Dawson, a psychiatrist, writer and film maker said that she "puts the reader nicely in her shoes experiencing the paranoia, misinterpretations, hallucinations." Dr. Dawson is the author of Schizophrenia in Focus and the soon to be released The Adolescent Owner's Manual.
Susan Inman, author of After Her Brain Broke: Helping My Daughter Recover Her Sanity called My Schizophrenic Life an "important book (that) should be read by anyone wanting to understand how someone can recover from schizophrenia".
My Schizophrenic Life: The Road to Recovery From Mental Illness is published by Bridgeross Communications (ISBN 978-0-9810037-9-5, $19.95, 210 pages) and is distributed by Ingram Books.
###