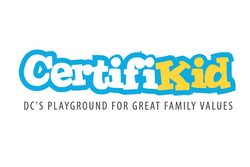 Washington, D.C. (PRWEB) September 29, 2010
Certifikid – the first and can't-miss DC area deal website for families – and Washington Parent magazine – the most trusted parenting resource in DC, Maryland, and Northern Virginia for almost three decades - have announced that they have joined forces and formed a partnership. The winner: parents and families in the Greater Washington area!
Certifikid (http://www.certifikid.com) offers its members via email a daily, unbeatable deal on all things families want and need in the Greater Washington area. Since its launch earlier this year, Certifikid has featured exclusive deals at incredible savings (often 50% or more off the retail price) from local businesses such as My Gym, MusiKids, The Great Zucchini, Daisy Baby & Kids Boutique, The Cereal Bowl, Sassanova Shoes, as well as independent specialty photographers, jewelry and gift sellers, family friendly restaurants, and kid activities. Thousands of local families have benefited from Certifikid's great values and Certifikid's participating businesses – most of whom request to be featured again – are thrilled for the new customers and exposure!
Washington Parent (http://www.washingtonparent.com) has been serving parents in the Washington Metropolitan Area since 1982, providing family enrichment through education and support in print, online, and at selected events throughout the year.
As part of their collaboration, Washington Parent will feature Certifikid in the 70,000 copies of their magazine distributed each month to more than 1800 locations throughout the metropolitan area, including major outlets such as Whole Foods, Borders Books, libraries, community centers, day care centers, schools, and pediatricians' offices, as well as on their website, e-newsletter, and at events. This will lead to more Certifikid subscribers and thus better Certifikid deals for local families. Certifikid will enhance Washington Parent's online presence, generate interest in and support for their many events, and help it to develop new business relationships.
"By partnering with Washington Parent, an area institution, Certifikid will be able to reach more local families and offer them better deals, says Certifikid's founder and lifetime expert deal finder Jamie Ratner. "We are elated to work with Washington Parent's outstanding team and get started on all that we can accomplish together for the benefit of Washington metro area parents and families."
"We are very excited to partner with Certifikid, a leader in the cutting edge internet marketplace for local family friendly businesses and their customers," says Washington Parent owner Deborah Benke. "We believe our 150,000 monthly readers will also be excited to benefit from Certifikid's great deals geared to local families."
###