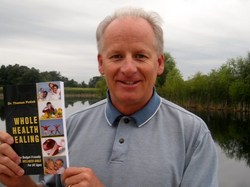 "I'm excited to be able to share my 25 years of experience as a busy holistic family doctor."
Eagle River, WI (PRWEB) September 15, 2010
Dr Tom Potisk, author of Whole Health Healing - The Budget Friendly Natural Wellness Bible for All Ages, will be a featured speaker at the Day of Renewal holistic health seminar on September 21, 2010. The event sponsored by Eagle River Memorial Hospital/Ministry Health Care will take place at Moon Beach Camp in St Germain, Wisconsin.
"If you are struggling with a specific health issue, or if you just are not confident that you are doing everything possible to ensure your vitality and longevity, I have natural solutions." said Dr Tom Potisk, a Chiropractor of the Year award winner in 2006.
Holistic health care, a principle based on wholeness, and that good health is more than just the absence of symptoms, is growing in popularity according to a recent Harvard University study. The holistic principle focuses one's efforts on obtaining complete physical, mental, and spiritual well being for optimum wellness.
The Day of Renewal event runs from 9AM to 3PM. Dr Potisk will present the segment dealing with brain science, and will reveal techniques to enhance health by first changing your brain.
"If you've ever wondered why you and others have failed to complete a diet, an exercise plan, or even battled to overcome an addiction, you'll want to hear my insight and the groundbreaking solutions I offer." said Dr Potisk. He will have his new book Whole Health Healing available for purchase at the venue. Details of his book can be seen at http://www.wholehealthhealing.com.
The site of the event, Moon Beach Camp, is located at 1487 Moon Beach Road in Saint Germain, Wisconsin. This first-ever event is open to the general public through advance registration by calling the program chair Elizabeth Purtell at 715-546-8048.
###