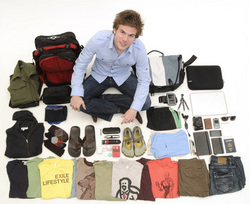 I was caught in the 120 hour workweek for a long time, but now I try to focus on enjoying my time. I've only got one life to live, so I may as well enjoy as much of it as possible.
Los Angeles, CA (PRWEB) September 20, 2010
Colin Wright, entrepreneur and author of popular the blog Exile Lifestyle, has opened up voting for the next country he'll move to for 4 months.
The owner and founder of several businesses and websites, Colin lives a lifestyle that many have described as ideal. Working a few hours a week from his laptop, he travels the world, moving to a new country every 4 months and spends his days learning all he can about the local culture, people, language and food. He funds this venture through his businesses - several of which bring in passive income - and he writes about his adventures and insights on Exile Lifestyle.
A California-native, Colin spent most of his life living in Missouri before returning to LA and starting up a sustainability-focused design studio. His studio evolved into a full-service branding studio and was restructured when he decided to start traveling full-time. It was during this restructuring that Colin also sold nearly everything he owned, save what would fit into a carry-on bag, leading to his current status of owning around 50 things in the entire world.
So far Colin has lived in Argentina, New Zealand and Thailand, and he will be living in Bangkok until the end of the year. For the New Year, Colin will move to whatever country takes in the most votes, and will live there for 4 months.
Colin's blog can be accessed at exilelifestyle.com
Anyone can vote on where Colin will move next at exilelifestyle.com/vote
More information on Colin and his project can be found at exilelifestyle.com/about
Interviews and other press about Colin can be found at exilelifestyle.com/press
###