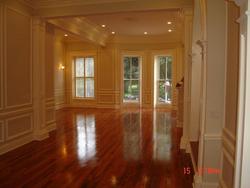 There's something to be said for a company that has been able to not only survive but grow in this economy.
Norwood, MA (PRWEB) September 27, 2010
Neponset Valley Construction is a full service residential and commercial building, remodeling and renovation company that specializes in exterior renovations such as roofing, siding, windows and insulation. Brian Kearney, Neponset Valley's owner says, "There's something to be said for a company that has been able to not only survive but grow in this economy. I think it's worth celebrating the fact that after 10 years in business we have become a name that is synonymous with helping homeowners maintain and improve their homes while focusing on saving them in energy costs. It's this growth that has allowed us to bring on Gavin Miles as a partner to help me to continue to expand the business and service even more clients."
Gavin Miles comes to Neponset Valley with over 15 years experience in residential restoration building experience. Originally from Maine, Gavin lives in Walpole with his wife and two children and was brought on board to help Brian manage the company's current clients and help Neponset Valley keep up with demand. "With the importance of saving energy costs at the forefront of every homeowners mind, it's becoming more and more essential that we find solutions to improve and replace necessary components of the home while 'greening' it at the same time. Because this is the focus of so many homeowners, and Neponset Valley is so committed to green building practices, Brian's company is busier than ever and I'm thrilled to be able to join the team at this exciting time," says Gavin.
Neponset Valley is one of a few companies that offers free Energy Audits, a process by which they can see where a home is losing heat and air conditioning. "Once we can identify the source of the seepage, we can find cost effective ways to address it, often saving the homeowner thousands in heating and cooling bills. I've yet to see a house that is air tight," says Brian. These free energy audits have the crews busier than ever, as homeowners often like to know the source of the leaks, so they can plan appropriately. "It doesn't make sense to get all new windows if you're losing heat through the roof, " explains Gavin.
For more information on Neponset Valley Construction, please contact Lucia Scott at (617) 957-3868 or visit http://www.Facebook.com/NeponsetValleyConstruction
###