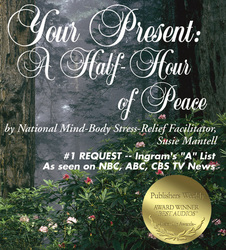 "Mantell soothes nerve endings like salve. Don't ask how--she just does." -The Rocky Mountain News, Denver
Chappaqua, NY (PRWEB) September 15, 2010
More strung-out than the lights on the tree? Burning-out like a Chanukah candle? Award-winning stress-relief expert, author Susie Mantell says, Balancing November and December personal needs and professional responsibilities while meeting family demands, challenges the well-being of even the most self-aware among us (even in the most "functional" of families.)" Winter bustles with list-making, mall-crawling, web-surfing, and then... the delicious sigh of relief as the last ribbon is curled! But creating a joyous, meaningful holiday season is never as easy as it looks. As Thanksgiving approaches, plan ahead, pace yourself, follow stress-relief expert /author Susie Mantell's Seasonal Soother strategies, and you'll find yourself enjoying the holidays a whole lot more this year!
1. Simplify to reduce holiday stress. Make a Pre-Season To Do List (Save a copy for next year. It gets easier each time, and eliminates the need to re-invent the wheel.)
2. Create a stress-buster time-line for each task with plenty of time to avoid last-minute pressure.
3. To prevent last-minute anxiety, take time early in the fall to browse catalogs and the web, and begin crafts projects. Address cards while watching TV or chat with a friend.
4. Here's a great way to prevent late-night wrapping frenzy: Wrap right after each shopping expedition. Or wrap with a friend over tea. Better yet, shop at stores they wrap.
5. Ask people what they'd like. Surprises are wonderful too, but asking one another can make
shopping so much easier, plus it's really fun to know we're getting them just what they really, really want.
6. Let people help. When having guests in, reduce hosting stress by allowing them to bring part of the meal can actually make them feel more at home.
7. Swap babysitting with a friend to each get shopping done "hands-free." (Hint: Bring home a little gift for the sitter.)
8. To ease financial stress, consider January sales. Wrap a photo or toy version in a fancy box with an I.O.U. (Then, make a note to remember to buy it!)
9. Deck the Halls! (Or maybe this year, deck just one hall to simplify.)
10. Think about how to simplify, or eliminate, just one holiday season task.
11. Read something meaningful. Grow personally every single day.
12. Let a stranger go first in line at the market -- "just because."
13. Invite someone to join the family for a holiday meal. (If someone offer help, the correct answer here is "Sure--Thanks!")
14. Do something enjoyable every day.
15. Organize a girls (or guys) night-out over the holidays. Plan early so everyone saves the date.
16. Eat healthily and exercise. Then, when splurging, enjoy every bite.
17. Missing a far-away loved one? Schedule an uninterrupted catch-up "phone date."
18. Too many plans making the holidays feel stressful? Schedule naps, time to read, meditate or swim.
19. Too few plans for the holidays this year? Invite friends, order-in. Use holiday paper plates. Rent a movie, play a board game. Have everybody bring a wrapped grab-bag gift under $10.
20. Smile at strangers. It boost the "feel-good" factor--the "Smiler's" and the "Smilee's." Keep trying. Somebody will smile back!
21. Ask the family to help re-prioritize some of the more labor-intensive holiday traditions. Create new ones! (e.g.: Maybe skating and a sleep-over could replace baking 4 kinds of cookies from scratch.) Shared decision-making will allow families to give to one another in ways that embody the true spirit and values of this holiday season.
BONUS: This season, and in all seasons, Believe. Believe in whatever it is what is good and true. Believe in humankind, in nature and beauty and music and laughter, and believe in the power of hope. Whether or not one practices a religious faith, we can believe in honor and goodness and cherished loved ones, and in the values by which we wish to live. We can believe in children, and a brighter tomorrow, and in possibilities beyond even your bravest dreams. Believe in this moment, right now. It really is a gift. [See stress-relief expert Susie Mantell's Stress Tips to relieve Health-Related, Work-Related, Sleep-Related, Chronic and Post Traumatic Stress at http://www.relaxintuit.com
© 2000, 2008, 2010 Susie Mantell, Relax Intuit™ LLC. All Rights Reserved. Award-winning stress-relief expert Susie Mantell is the author of the exquisitely soothing relaxation audiobook, "Your Present: A Half-Hour of Peace," (BEST AUDIOS--Publishers Weekly Award), clinically approved to relieve symptoms associated with health-related, work-related, chronic and traumatic stress. Featured in The Los Angeles Times, NBC, ABC, CBS-TV, Town & Country, The American Pain Society, Hazelden and The Susan G. Komen Breast Cancer Foundation, listeners include The Mayo Clinic, Memorial Sloan-Kettering, The Betty Ford Center, V.A. Hospitals and Canyon Ranch ("#1 Spa"--Conde Nast Traveler). Customizing stress-reduction for Fortune 500 companies, distinguished medical centers and spas, Mantell's multi-sensory, mind-body techniques appear in national media, medical and corporate publications. Susie Mantell's stress-relief & wellness tips are intended as an adjunct to, not a substitute for, professional health care. Order "Your Present: A Half-Hour of Peace" and enjoy more of Susie Mantell's stress-relief tips at http://www.relaxintuit.com
###