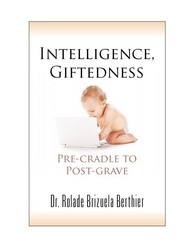 Intelligence matters. How will I react if told that I'm intellectually inferior to my friend, colleague, partner or relative? There's no simple answer only intelligent decision.
Durham, CT (PRWEB) September 15, 2010
Intellectual giftedness affects you directly and indirectly. It is measurable using achievement-oriented criteria, school assessment, IQ test, performance indicators, and observation of task, analytical and decision-making ability. Generally, giftedness is an advantage and there's no problem with being very intelligent only difficulties due to lack of political will, institutional irresponsibility, family indifference and/or lack of resources.
There are ways and means that parents, teachers, governments and the community can ensure positive experiences in giftedness. For example, in some schools very intelligent children are accelerated, provided with extra and challenging activities. There are parents who home school their children because the formal education system does not appropriately respond to giftedness. We often talk about exceptional intelligence among children but giftedness is a lifetime experience. It is during adulthood that our gifted individual makes decisions that affect others, participates in the choice of government, etc.
How do we ensure that giftedness translates into success for individuals and society? How do we enhance giftedness and does not this contribute to inequality? How it is to be gifted, or parent of a gifted, in our highly competitive, materialistic global village? These are examples of the questions discussed in the recently-published book 'Intelligence, Giftedness: Pre-cradle to Post-grave' by Dr. Rolade Brizuela Berthier.
http://www.strategicpublishinggroup.com/title/intelligenceGiftedness.html
http://wwwintelligence-rolade.blogspot.com
###