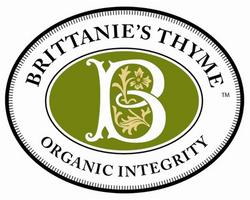 "Small, upcoming company providing USDA-certified organic skin-care that is safe, economical and truthfully green. No excess packaging, reasonable prices, great natural products for your skin (and they work!)." —Freyja G., La Grange, IL
Cedar Springs, MI (PRWEB) September 15, 2010
Brittanie's Thyme is a women-owned manufacturer of USDA certified organic personal care products based in Cedar Springs Michigan. The company produces four lines: Facial Freedom, facial care for young men and women; Mindful Beauty, facial care for women; Outdoor Harmony, bug spray and bug bite relief; Full Breath, cold and sinus relief.
Consumers have shown their appreciation for the company's dedication to quality, affordability, transparency and integrity by making Brittanie's Thyme one of the top 10 nominees for this year's People's Choice Award through Green America. Consumers nationwide took part in Green America's online questionnaire to select their favorite green businesses. Voting for the winner begins September 14 and runs through October 6. The winner will be announced at the San Francisco Green Festival the weekend of November 6-7.
Consumers have a long list of criteria they take into consideration when making personal care purchases. Price and efficacy remain the leading drivers, but safety, both short and long-term, environmental impact and social concerns are all gaining momentum. This has led to a growing demand for organic personal care products. Yet the lack of government oversight of organic claims on personal care has caused many consumers to become wary of non-certified products. The term "greenwashing" is now mainstream.
Brittanie's Thyme understands the fears and concerns regarding safety and social and environmental issues. The company also knows that price and efficacy are still the most important drivers. Therefore, it has taken the extra step of becoming USDA certified organic and yet still maintains affordable prices while providing luxurious products that can compete with any other product on the market.
Voting for the People's Choice Award is open to the public at: http://www.greenamericatoday.org/greenbusiness/peopleschoice/index_voting.cfm
For more information about organic personal care products, visit http://www.brittaniesthyme.com or call 1-708-307-9675.
ABOUT BRITTANIE'S THYME, LLC
Brittanie's Thyme LLC was founded in 2004 in Cedar Springs, MI. The women-owned company manufactures products based on efficacy, organic Integrity, sustainability, safety and social responsibility. Brittanie's Thyme products are available in independent retail outlets throughout the US, online at http://www.brittaniesthyme.com, at Whole Foods Markets, Midwest, and expanding every day. The company is USDA certified organic, with over 95% of its products certified at 95% organic or higher. All products are made in the USA.
ABOUT GREEN AMERICA
Green America (formerly Co-op America) is the leading green economy organization. Founded in 1982, Green America provides the economic strategies, organizing power and practical tools for businesses and individuals to solve today's social and environmental problems. Green America's green economy programs encourage corporate responsibility, tackle climate change, build fair trading systems, advance healthy, local communities, and provide green purchasing and investing information for families and businesses.
To receive Green America's popular publications, including Real Money and the National Green Pages™, participate in Green America's Green Business Conferences or Green Festivals, or to get its free e-newsletter, providing the latest green news, green discounts, and opportunities to take action for a green economy, visit http://www.GreenAmericaToday.org, email info(at)GreenAmericaToday(dot)org, or call at 800-58-GREEN.
###