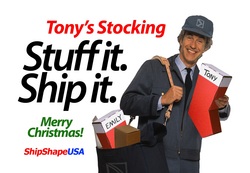 "Tony always loved his Christmas stocking, and I wanted something special that would remind him of home." -- Inventor and mom, Cathy Staller.
Pollock Pines, CA (PRWEB) September 15, 2010
When was the last time the box you shipped it in delivered as much excitement as the gift inside? Tony's Stocking (patent pending), a unique, new product from ShipShapeUSA, is a shipping box that looks like a Christmas stocking. These festive shipping boxes are perfect for family, friends, students, client appreciation gifts, fund-raising organizations, stores, catalogs, online retailers, and shipping outlets.
In cheery red and white, this sturdy corrugated cardboard box can be sent through the mail, UPS, FedEx, or other services as is, and FedEx has also approved Tony's Stocking for international shipping. Simply fill the stocking with goodies, write a name at the top, attach an address label, and off it goes -- bringing joy to your family and friends throughout the world. There's even a pull-out loop - so you can hang the stocking by the chimney with care.
Tony's Stocking

Made in the U.S.A.
Made of recycled materials
US Postal Service-approved
Retail price: $5; wholesale pricing available
Branding and customization available
Percentage of profits goes to delivering stockings to U.S. troops and to charities
Tony's Stocking is the inspired invention of Cathy Staller. The first Christmas that her son Tony was stationed away from home with the Air Force, Cathy sent him a home-made stocking-shaped box filled with presents. "Tony always loved his Christmas stocking, and I wanted something special that would remind him of home," explains Staller. During the 2009 holiday season, hundreds of Tony's Stockings were stuffed full of special gifts by volunteers and shipped to U.S. troops in Afghanistan and Iraq.
ShipShapeUSA President and CEO, Dave Mittereder, says: "Tony's Stocking makes people smile -- the sender, the recipient, even people who just happen see it somewhere along the way. It's a unique gift idea, and it's made in the U.S.A. Just stuff it and ship it, and watch the smiles appear."
For additional information: http://www.shipshapeusa.com or call Dave Mittereder at 866-993-8833 Ext 3.
###