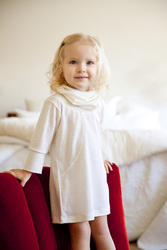 Nui Organics is more than just fashion forward - its smart clothing. Merino wool creates a micro climate around the child – it calms, regulates temperature, resists fire, wicks moisture, is soft, comfortable & easy care. As a parent - whats not to like?
Austin, TX (PRWEB) September 15, 2010
Forget the scratchy old sweaters that Grandma used to make. World's apart, organic New Zealand Merino wool is naturally occurring non-scratchy wool. Its look is sleek and fine and beautiful. Contemporary with an old world charm.
In addition to looking great, organic Merino wool is THE perfect fiber to have next to a child's sensitive skin. It breathes, regulates temperature, both absorbs and repels moisture, is naturally fire resistant, soft, easy care and durable.
New for 2010 from Nui Organics is nui BODY - superfine organic merino in 4 colors (natural, silver, blush and sky) for Newborn to 4T. Nui BODY pieces include wraps, gift sets, dresses, booties, hats, body suits, pants, tops, tees and accessories. Superfine merino is easy wear and machine washable easy care.
Of equal importance to Nui Organics is the impact their clothing has on the environment. Organic wool is clean – for the environment, in production and for the end user. Unlike with conventionally grown and processed wools, cottons and synthetics there is no chemical residue on Nui Organics Merino to transfer to a baby's sensitive new skin. According to designer Amanda Searancke "It's also about paying the true cost for an item of clothing. While a product like a Nui Organics sweater may cost a few extra dollars at checkout now, it is produced in a fair way and is helping the environment, not harming it. Your child or grandchild won't still be paying for that sweater with their health, their jobs or the health of their environment in 20 or 50 years time."
Nui Organics™ has been available in the US for 5 years. It is produced by Te Point, Inc who is committed to providing safe, natural, intelligent products for babies and children that consider both the health of the child and of the environment the child will grow up in.
Te Point, Inc also makes Kina Collection – natural lambskin baby booties and clothing made in New Zealand. http://www.kinacollection.com
Digital images available upon request.
###