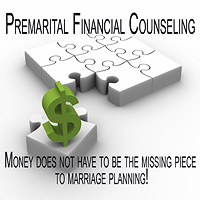 Denver, CO (PRWEB) September 27, 2010
His account, her account or our account? How do you pay for the wedding if the bride-to-be or groom loses their job? What if one spouse brings more debt into the marriage than the other? Money is one of the top reasons for divorce – everything from a communication breakdown about money, lack of money and even overspending. The National Directory of Marriage and Family Counseling states, the divorce rate in America has hovered around 50% since the mid 80s, however, research has shown that premarital counseling reduces that number by 30%. Premarital financial counseling is essential for a sound marriage.
According to a survey by the Association of Bridal Consultants, more than 67% of newlyweds believe the most serious conflict in their first year of marriage is over money. Dr. Taffy Wagner, Certified Educator in Personal Finances and Money and Marriage Advocate announces she is now providing premarital financial counseling. "Its time for engaged couples to be proactive about money and marriage issues versus reactive once they say "I Do", return from the honeymoon and find out their spouse brought debt into the marriage or even has less than perfect credit which can affect their future."
Motivational Speaker Zig Ziglar said, "Many people spend more time in planning the wedding than they do in planning the marriage". According to the Work and Wedding survey recently released by TheKnot.com, WeddingChannel.com and ForbesWoman.com, "Working brides spend an average of 10 hours a week planning their wedding – nearly 30% of which is done at work. For 20% of working brides, more than half of their wedding planning is done at work".
Wagner says, "A marriage is the responsibility of the bride and groom. Engaged couples should be paying attention to how money discussions are received and handled as they are planning the wedding which truly is a glimpse into what will happen once married i.e. compromise, secrets about money, arguments or even avoidance. Couples should view this as a test run".
"Dr. Taffy Wagner is not only an informative, inspirational, motivational financial expert, she is a no holes barred transparent communicator who gives advice that lines up with the issues and problems of today's world. She really understands where life's financial struggles can lead you and through her instruction and counsel she will ensure that you do not fall prey to these struggles. We have found her advice to be on a practical level that can be understood and applied into practice by millionaires and college freshmen alike. She gives you what you need for your situation in a compassionate way that shows you both the choices that got you to where you are as well as the solution that will take you to where you want to go". Marcus n Gloria Whyte, Life Coaches & Relationship Counselors For Healthy Marriages©
Every month of the year, couples are standing together taking vows and saying "For Richer or For Poorer", yet they are not equipped with the necessary financial skills to handle unexpected financial circumstances, which lead them on the path to for poorer. Therefore, arguments about money start, communication breakdown, stress and some choose to exit the marriage forgetting about those vows. Wagner says, "Engaged couples must do something different in 2010, if they want a different result when it comes to marriage and not be a divorce statistic. Communicating about money openly and honestly during the engagement is the beginning of a united financial journey that can continue throughout the marriage with reduced stress, greater teamwork and a common goal.
"Dr. Taffy is a passionate, knowledgeable financial educator. She is committed to changing lives as it relates to financial education. Dr Taffy is determined to save marriages with financial woes, because financial issues within marriages is the number one cause for divorce. She is very detailed and uses her own life experiences to bring about change and restoration to couples and wives alike. She is very personable with a high degree of integrity in her work. I highly recommend Dr. Taffy Wagner for all of your financial needs." Mary Chatman, CEO of Love Life Designs, LLC
Wagner welcomes 30 couples that are committed to seeing their marriage and money work to contact her for a 45 minute complimentary premarital financial counseling session to determine if they can work together. She is also available to provide ongoing support and solutions in the area of money and marriage. Reserve your complimentary session today by contacting her through her site at http://www.moneytalkmatters.com.
About Taffy Wagner, DMin and Certified Educator in Personal Finances
Dr. Wagner has been interviewed by AOL Black Voices, The Associated Press, US News and World Reports and Called Magazine regarding money and marriage, has been quoted in Black Enterprise, Essence Magazine and Woman's Day regarding personal finances. She provides one-on-one counseling, conducts seminars for individuals, engaged couples and married couples. She is the host of Money and Marriage Xposed Radio on Blogtalk Radio which airs every Tuesday at 8pm EST. Dr. Wagner is available to speak at seminars, conferences and small groups.
# # #