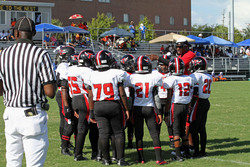 I truly believe in doing what you love and loving what you do, but sports should never come at the price of your health and happiness.
New York, NY (PRWEB) September 14, 2010
Super Bowl championship rings, MVP trophies, glamorous parties, exciting endorsements and publicity, topped off by ballooning bank accounts, is the life many professional athletes lead – or so millions of youngsters around the country believe. Veria TV's new reality series, Sports Dads, takes a 360-degree look at the lives of young kids between the ages of 11 and 14 years old, who have been groomed from a very early age to become professional athletes. Deion Sanders, one of the most versatile athletes in American history and the only player to compete in the World Series and Super Bowl, will host the new series and mentor aspiring athletes to future success and happiness.
"This show is about real, down-to-earth kids in the heart of America, who have spent the better part of their childhood training to become mega athletes, facing pressure from their sports-obsessed parents and coaches," says Hal Rosenberg, Veria's General Manager. "We are thrilled to be working with Deion Sanders for this sidelines glimpse into the child athlete culture that shows just how tough it is to be well-rounded when sports become the central focus in your life. It's the start of a whole new set of cutting edge, fun programming we plan to launch this year that will inspire people to live life to the fullest. "
Over the course of the reality show, concerned family and friends send video messages asking Deion Sanders to land on the front door of these kids and confront their "Sports Dads", who are pushing their kids into becoming superstar athletes, sometimes at the expense of their academic growth, thus leaving them feeling overworked, underappreciated, and most importantly, unprepared for life. After viewing the footage, Deion forms a "Game Plan" to help these parents find a balance between sports and family.
"I am very proud to join Veria as the host of Sports Dads, a show that tackles a very real and problematic trend among adults in America desperately trying to relive their dreams and ambitions vicariously through their kids who simply just want to be kids," says Deion Sanders. "I can only hope that my years of experience, on and off the field, will shed light on the importance of creating a healthy balance between sports, health and family, and somehow relieve these kids of mental scars they may carry throughout their lives. I truly believe in doing what you love and loving what you do, but sports should never come at the price of your health and happiness."
Sports Dads will be produced by 1820 Productions in Dallas, TX, which has more than 15 years of experience pushing High Definition and Film technology to new heights. Korey Miller, Deion Sanders and Sara Madsen are the show's Executive Producers.
About Veria
Veria is committed to inspiring and promoting understanding, appreciation and progress in natural health and wellness through its High Definition TV network, interactive lifestyle-focused website and all-natural product line. Veria's philosophy is that good health is a fundamental, and necessary, right shared by all, regardless of age, gender, class and ethnicity. By shining the spotlight on the human faces and stories of people across the country, Veria strives to improve the health of communities in a way that's smart, entertaining and rewarding.
Committed to empowering people in their pursuit of natural health and wellness, Veria TV is produced in high definition and features original, entertaining lifestyle shows with a special emphasis on natural food, wellness, fitness, home and travel that are always practical, engaging and entertaining. Veria TV is available on Channel 218 on the Dish Network and Channel 162 on Verizon FiOS. For more information on content and program schedules, visit http://www.veria.com.
Media Contact:
Ragini Bhalla
Asia TV USA Ltd.
Phone: (917) 767-0689
Email: Ragini.bhalla(at)asiatvusa(dot)com
###