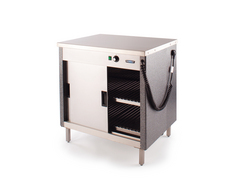 (PRWeb UK) September 13, 2010
Hot cupboards are essential 'must haves' for many caterers, for example in hotels, restaurants, schools, hospitals, event catering and self service diners. Catering equipment company E & R Moffat is one of the UK's most experienced hot cupboard manufacturers and offers these tips:
Heat-up times: make sure the hot cupboard is up to the job. Chose a unit that will heat up fast and recover temperature quickly after the door is opened. A forced-air heating and recirculation system should guarantee hot cupboards stay hot.
Hot spots: it is vital that the temperature is distributed evenly through the hot cupboard otherwise food can over cook, or may become unsafe to eat. Check that there are no hot or cool 'spots' – in Moffat's models the special shelf design, combined with the forced-air system, ensure uniform temperatures.
Energy saving: everyone worries about energy consumption, so check the unit's running costs. How effective is the insulation? How efficient is the heat-up system?
Mobile or fixed? Most manufacturers, including Moffat, offer a choice of mobile or fixed units. Mobile units can be locked in place and offer more flexibility in the long run.
Mobility: mobile units need to be as easy to move as possible. Check for swivel (and lockable) castors and manoeuvring handles.
Is it robust enough? Hot cupboards, especially mobile units, are likely to have a tough life. Make sure it is built to last. For example, Moffat uses stainless steel throughout, with extra protection provided by tough, durable spritzer outer panels.
Ease of use: make sure the hot cupboard runs off a 13 Amp supply.
'Clean-ability': a stainless steel interior and removable doors and shelving will make cleaning simpler.
For more information on Moffat's range of hot cupboards, and to download a brochure, visit http://www.ermoffat.co.uk
Press Enquiries:
Toni Turner or Alison Haynes at The Publicity Works: 01263 761000 Email: moffat(at)publicityworks(dot)biz
For more news about E&R Moffat visit the press office at http://www.publicityworks.biz
Gordon McIntosh at E & R Moffat: (01324) 812272
###