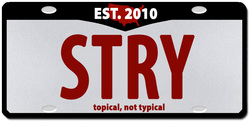 Washington, DC (PRWEB) September 28, 2010
Print is struggling, but it doesn't need to be forgotten. That's what's on the minds of reporters at a newly launched, hyper-topical news service, called Stry.
The bureau provides long-form, original content exclusively for print editions of daily newspapers. As opposed to breaking news agencies, Stry reporters are out on the road writing engaging, issue-based stories that require patience and time.
"It's time to get reporters back out into the field, digging into the state of our union," says Dan Oshinsky, Stry's senior bureau chief. "That's why we're here."
Oshinsky says Stry (pronounced STOH-ree) is currently working with newspaper partners around the country to publish Stry content in their print editions.
The bureau will be fully operational beginning in early 2011.
"The best stories know no news cycles," Oshinsky says. "While cable TV and national outlets are out trying to find 'news of the day,' we'll be leaving our reporters free to listen, learn and find great stories."
The secret behind Stry is a simple business model. Stry is funded not by advertisers or readers, but by newspapers willing to invest in great reporting. Stry has limited overhead and no newsroom. It's a news organization whose sole mission is to report – not print, distribute or sell – the news, and Oshinsky says the costs of reporting are lower than ever.
In turn, Stry will offer those savings to news organizations at a yearly rate that's unmatchable by other bureaus.
Stry recently completed three months of reporting from its pilot bureau in Biloxi, Miss., covering issues ranging from mental health to the skyrocketing costs of homeowner's insurance along the Gulf. Starting in 2011, Stry will be going coast-to-coast with temporary bureaus covering issues of importance to the American people.
Stry's reporters aren't just parachuting into a region for a few days. They're moving to a region and digging into an issue, asking questions and taking the time to actually report.
While journalists continue to wonder how news will be supported in the coming years, Stry offers a solution for the present.
"We're not trying to be the ones with the biggest megaphone," Oshinsky says. "We just want to be the ones who are the most engaged and the most connected in every community we cover, and the ones who are reporting stories worth reading."
For more information, visit http://stry.us.
About Stry
At Stry, we're about reporters asking good questions. So Stry started with a simple one: What if, we asked, we could create a new type of news organization? One that covered the issues that affect our lives. One that didn't care about the headlines or news of the day. A news organization that wasn't easily distracted.
So that's what we are: Stry, a band of reporters in pursuit of storytelling. We travel the country for months at a time, and when we find an issue worth talking about, we dig into it. We won't stop digging until we've covered the story as thoroughly as we can.
The stuff you'll see on Stry isn't like the stuff you see elsewhere, because we only do the types of stories that require patience and time. We hope it shows.
Media Contact:
Dan Oshinsky
Senior bureau chief, Stry
office. 202.591.1448 | email. dan(at)stry(dot)us
###