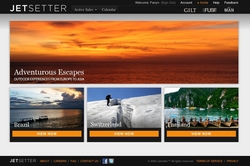 Members visit Jetsetter to discover new destinations,much in the same way they ask their friends or read a travel magazine. Jetsetter's team of travel experts search the globe for hot new hotels and memorable tours and build packages,at prices 30-50% off.
New York, NY (PRWEB) September 15, 2010
Jetsetter, (http://www.jetsetter.com) the leading private sales website that helps leisure travelers discover and purchase the world's best vacations, is opening their playbook on smart strategies for traveling like a Jetsetter without breaking the bank. Our team of travel experts is passionate about travel and they want to share that passion with their members, and help them save money along the way. CEO and Founder Drew Patterson rents a villa with friends, Curator Roberta Seiler loves a shoulder season deal, director of member services Adrienne Walsh is redefining the weekend, VP of partner development Heather Leisman relishes her adults-only take on holiday travel, and more.
Consider a villa: Whether planning a ski trip with college friends or a family reunion, a Villa provides tremendous value at the height of luxury and sophistication. Jetsetter recently featured a sprawling 10,000 square foot villa in Mexico with five-bedrooms; full-service staff of four including butler, chef, concierge and house cleaner; zen garden; and private pool--all for under $180 per night per person. Choose a villa with lots of bathrooms, so everyone has their privacy. An open concept floor plan means whether making a cocktail, preparing dinner or relaxing on the couch, you'll never miss out on the conversation. If children are invited, make sure the pool has a strong gate to keep the kiddies safe. —CEO and Founder Drew Patterson who rented a villa with friends in Greece over the summer
Travel during Shoulder Season: You've heard of high season and off season, but most travelers are not familiar with shoulder season. Using Europe as an example: summer is Europe's high season when prices are high and reservations are hard to get. Off season is the winter when walks along the Seine can be chilly. My favorite time to visit Europe is fall, when the lines at the museums and attractions are nonexistent and the weather is comfortably cool for strolling some of the world's most beautiful cities. Jetsetter features European vacations every week. This week, choose from a bike tour in Tuscany, a seaside resort in the South of Spain, city and country escapes in England, Bikini Bootcamp in Ibiza, or a high design hotel in Milan. Roberta Seiler, Brazilian-born, European-bred Curator
Redefine the weekend: Avoid the traffic and get into a hot spot that is booked every weekend. Check-in on Sunday for a two or three night trip at a fraction of weekend pricing, and enjoy a less hectic getaway. I have personally made it a point to seek out shorter trips which has allowed me to explore more destinations in the US that I had previously overlooked. Jetsetter's Jetaways weekends provide insider access and member-only deals on places like Montauk's Surf Lodge or the Ace Palm Springs. Adrienne Walsh, Customer Care Specialist, recently returned from Chicago, and has plans to redefine her weekend in DC, Miami, and Las Vegas.
Mountains aren't just for snow bunnies: Experience the mountains without all the snow—perfect for the outdoor lover who enjoys hiking, rafting, horseback riding, and biking without the threat of frostbite. You'll avoid the winter crowds and take advantage of shoulder-season pricing plus surprising events to lure tourists such as outdoor concerts and food and wine festivals. This week, Jetsetter is featuring cool mountain getaways in Beaver Creek, Squaw Valley and upstate New York. Lindsey Goldstein, Associate Producer, just returned from a bachelorette party in Aspen.
Don't wait until you're 65 to start crossing trips off your bucket list: Travelers tend to push bucket list trips until later in life. But at Jetsetter we pride ourselves on offering once-in-a-lifetime trips that are affordable and doable TODAY including a Patagonia rafting tour, guided hike to the top of Kilimanjaro or a National Geographic cruise to the Galapagos. My bucket list is a mile long and I try and cross one off every year. I love animals, specifically monkeys, so I tend to travel to places where I am surrounded by them. My favorite destinations for mingling with monkeys include Thailand, Costa Rica and India. I am currently eyeballing a Cruise to Costa Rica and Panama on sale now. Farryn Weiner, Associate Editor, is still jet lagged from two weeks in Spain
Take a tropical vacation between Thanksgiving and Christmas or the first two weeks of January: While holiday travel during Thanksgiving, Christmas and New Year's are popular, few people have the time to travel during the non-holiday weeks between mid-November to mid-January. That's especially true of families who are busy planning holiday parties, wrapping gifts, and entertaining the kids who are home from school. I love all my 14 nieces and nephews but crave some kid-free downtime after the holidays and resorts are mostly family-free in early January. I love sitting by the pool without relaxing by the pool without being splashed, napping on a serene beach, and enjoying a leisurely dinner free from flying food particles. Tropical vacations are among our most popular trips on Jetsetter. This week, choose from resorts in Jamaica, Nevis and Mexico. Heather Leisman, Vice President of Partner Development, who hopes her boss will approve her vacation request for the first week of January.
No fall vacation on your calendar? Here's your invitation to travel with Jetsetter: http://www.jetsetter.com/register/promo/fallgetaways.
###