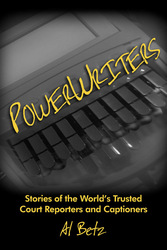 Al Betz has put together a resource that anyone even remotely considering court reporting as a career would do themselves a favor by reading this book. The NCRA is thrilled to be partnering with Al on distribution of this great new resource.
Baltimore, MD (PRWEB) September 26, 2010
At center stage in the courtroom, yet without fanfare, court reporters execute their solemn responsibility to accurately take the record of depositions and court proceedings and produce a verbatim transcript. In "PowerWriters: Stories of the World's Trusted Court Reporters and Captioners," author Al Betz, a veteran realtime court reporter, takes readers through a day in the life of dozens of court reporters and many notorious and controversial trials that have captured the attention of the world. Court reporters are professional eyewitnesses to history-making events, often chronicling the most dramatic and intimate details of society. Beyond the courtroom, the skills of the court reporter extend to the highly specialized role of captioners, who enable access to a world of communication for the hearing impaired. "PowerWriters" takes the reader behind the scenes where captioners perform realtime language translation for television programming and movies. It's not surprising that these careers are cited for above average job growth at handsome salaries, well into the future.
The book's title, "PowerWriters," is apropros from many perspectives. It is descriptive of the rigor, speed, and accuracy required in the court reporter's performance. It embodies the value and inherent power of the verbatim record in our system of justice. In any court of record, a proceeding cannot begin until the court reporter is present. Author Betz memorializes the talent, dedication, and challenges of these professionals and recounts the rich history and indivisible role of the verbatim record in our legal system.
Author Betz is also the president of Al Betz Reporting, Inc.. AB&A provides court reporting, captioning and litigation support services nationwide through offices in Washington, D.C., Baltimore and Westminster Maryland, and Harrisburg, Pennsylvania. Betz was a pioneer on a national scale in the development and implementation of Computer-Assisted Transcription (CAT), which led to a transformation of the pre-trial and trial systems in the United States through automation of courtroom procedures. The verbatim records of some of many important commercial litigation cases during the last 30 years have been entrusted to Betz and his company, including Enron, WorldCom, as well as criminal cases involving John Hinckley, Jr., Oliver North, and the grand jury investigations of former President Clinton.
One could also say Al's career has been "storied" in a different respect. He has used his skills to give back to the community through interviewing and preserving the stories of families of 9/11 and the rapidly dwindling ranks of World War II veterans.
Technology and the Internet have shaped the capabilities and demand for court reporting and captioners. There are several methods of court reporting, including stenographic, electronic, and voice writing. These jobs are cited for double-digit growth through the next decade, a beacon in an otherwise dim employment landscape. Although intensive training is required and certification is a plus, a traditional advanced degree is not necessary. It's a lucrative choice, even for a second career. Court reporters can command six-figure salaries in some venues, according to a Forbes article, which also predicted steady job growth.
According to the Bureau of Labor Statistics, "Employment of court reporters is projected to grow 18 percent, faster than the average, between 2008 and 2018. Demand for court reporter services will be spurred by the continuing need for accurate transcription of proceedings in courts and in pretrial depositions, by the growing need to create captions for live television, and by the need to provide other real-time broadcast captioning and translating services for the deaf and the hard of hearing."
According to Jim Cudahy, Senior Director of Marketing & Communications of the National Court Reporters Association , "Those who are considering a career in court reporting want to know what the future has in store for their would-be vocation. The future indeed looks bright and, in 'PowerWriters,' Al Betz has put together a resource that anyone even remotely considering court reporting as a career would do themselves a favor by reading this book. NCRA is thrilled to be partnering with Al on distribution of this great new resource."
"PowerWriters" follows Betz's other books, "Polishing the Pearl: The Art of Professional Performance" (a guide for court reporters and other service professionals seeking inspiration and knowledge), and "Outfluence®: The Better Way to Influence." Betz is a principal in Outfluence, LLC, a personal and professional development organization with a mission to teach people and organizations the application of the concepts of silent communication and Constant Messaging™ to initiate and foster mutually profitable business and other relationships.
"PowerWriters" (2010, ISBN 978-0-9819914-9-8) and the author's other titles are available for purchase at Silver Bear Graphics and http://www.outfluence.com.
###