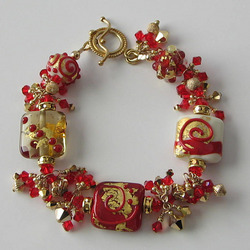 STUNNINGLY BEAUTIFUL BRACELET! SUPER FAST SHIPPING! GREAT PACKAGING! WONDERFUL ARTIST!!!!
Fresno, CA (PRWEB) September 30, 2010
There is a brand new website design at Pacific Jewelry Designs. The new website design is much easier to read, easier to navigate and intended to make an online shopping experience much more pleasant when purchasing handmade jewelry designs.
The new background is white instead of black thereby making it much easier to read. There have been several other changes to the website too, all intended to enhance a shopper's experience. The home page is simpler in design and easier to navigate. The things that have not changed are the top quality customer service and the great selection of affordable unique handmade jewelry designs. Customer service is the driving force behind the new website design.
Pacific Jewelry Designs has been on the web since 2006 and strives to make your shopping experience an extremely pleasant one. The owner and published designer offers a wide variety of handmade jewelry designs including bracelets, necklaces, earrings, even holiday and bridal jewelry. Custom orders are always welcome and the designer works closely with the client in all aspects of the design process. Don't miss this exciting new design at Pacific Jewelry Designs
###