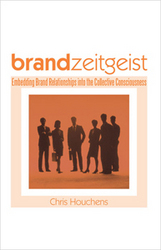 ZEITGEIST is an abstract concept of what's currently top-of-mind in the public's collective consciousness. The concept of BRAND is also an abstract idea to describe the relationship between consumers and a company. Brand Zeitgeist links these two ideas.
New York, NY (PRWEB) September 14, 2010
Marketing speaker / author Chris Houchens has released his latest book, Brand Zeitgeist: Embedding Brand Relationships into the Collective Consciousness. This new business book reinforces basic marketing and branding principles and illustrates how businesses can use fundamental aspects of human nature to develop a brand strategy.
In Brand Zeitgeist, marketing expert and keynote speaker Chris Houchens uses real world examples to provide a practical look at the fundamentals of branding and offers a common sense guide for businesses to develop branding and marketing strategies.
Houchens makes the point that brands need the zeitgeist, the constantly evolving collective consciousness of society, to have any real level of brand awareness. Brands should be aware of the current zeitgeist to craft effective marketing messages and for positive brand evolution.
The book teaches that a brand is nothing more than a relationship between a customer and the business. The question is how do you nurture that relationship and develop other relationships with new customers? Businesses can tap into the power of the zeitgeist to spread their marketing messages by bringing their brand to the forefront of customers' minds. Businesses can also use the zeitgeist to provide those customers the tools to spread their message through word-of-mouth and other viral channels.
Houchens said, "I wanted to write a book that encompassed my entire marketing philosophy. The foundation and core of all marketing activities is built on the brand so that seemed a good guide to use. Also, as I go and speak to groups, I find that people don't understand what a brand is. I wanted to write a simple and common sense explanation of branding.
I tried to use examples that haven't really been used before in branding books so we get some unique stories ranging from Santa Claus to how Hawaiians eat SPAM as illustrations of brand strategy. I attempted to write the book in a way so that anyone, even if they're not a marketer, would enjoy it. But I also think that seasoned brand pros will enjoy the fresh perspective of branding that the book brings."
Some of the marketing questions that Brand Zeitgeist answers are:
-How important are logos and other visual brand elements?
-How should brands evolve to stay fresh?
-How does word-of-mouth marketing spread?
-How important are advertising and customer service in a brand strategy?
-How can brands use the power of social media and online communities?
-How can branding be built-in during product development?
-How do you measure the effectiveness and ROI of branding efforts?
The book is available for sale at local independent booksellers, national retailers like Borders and Barnes & Noble, and online retailers like Amazon.com. Readers can find a book excerpt, read reviews, and find out more at the book's web site at http://www.BrandZeitgeist.com.
Connect with the author and other readers on the book's Facebook page at http://www.facebook.com/BrandZeitgeist
Find the book on Amazon at
http://www.amazon.com/Brand-Zeitgeist-Relationships-Collective-Consciousness/dp/1450206794
###