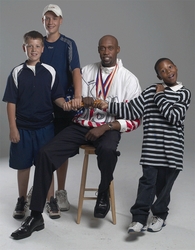 Better Health and Stop Obesity
Akron, OH (PRWEB) September 15, 2010
Olympic Gold Medalist and Former World Record Holder in the 400 Meters Butch Reynolds Promotes "Better Health and Stop Obesity" for Kids and Adults in the New Lost Secrets Handbook
60 glossy pages of over 17 years of research on the most practical health articles (diabetes, heart disease, cancer) and resources.
Covering potent practical preventive health topics such as:
•Safe Breast Cancer detection
•Why Vegan for Diabetes
•Questions on conventional heart disease protocols
•Top 10 Reasons to Eat Raw Foods
•Hidden Killers in the Kitchen vs Therapeutic Cuisine
•Who's is Really in Charge of Your Health Care?
•Non toxic treatment for Cancer
•The Best Way to Lose Weight
Get Your Copy Lost Health Secrets handbook, send $17.99/copy to: Healthy Referral Newspaper, 23550 S. Woodland Rd, Shaker Hts., OH (dept BR) 44122. Please add $1 for shipping.
Please inquire about corporate bulk orders and other questions. Please include all contact information. To help benefit Tennis Reaching Youth, an inner city youth tennis project and Butch Reynolds Care for Kids Foundation. Mr Reynolds currently runs a speed/conditioning training center in Central, OH, including consultation with high school, college, pro teams and athletes.
healthyreferral(at)gmail(dot)com 347-6-UR-WELL (879355) http://www.healthyreferral.com
Contact: T. Katovsky 216-212-1061 or tom.tennis(at)yahoo(dot)com
###