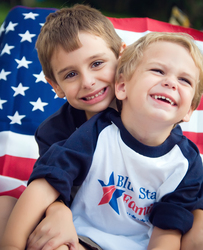 My Marine can't perform to the optimum level if he's worried about my kids not coping well or me not being able to access information and resources while he's deployed. He serves over there and we serve back here. We serve together.
Washington, DC (PRWEB) September 20, 2010
Blue Star Families releases their 2010 Military Family Lifestyle Survey supporting "Military Family Empowerment, Wellness, and Community" Wednesday, September 22 at 11:30 AM as a part of a Joint Senate and House Military Family Caucus Event.
In May 2010, Blue Star Families conducted an online survey of military families. The 2010 Military Family Lifestyle Survey was designed to reveal key trends in military family relationships, family life, and careers by examining, among other things, feelings of stress, levels of communication and engagement, and effects of operational tempo. Respondents included spouses, parents, service members, and military children and represented locations across the United States, as well as overseas military installations.
The 2010 Military Lifestyle Survey found that, on the whole, military families are experiencing high levels of stress but are coping. While military families feel more support from the community as compared to last year's survey, they still feel as though there is a gap in understanding between military and civilian communities.
Several key areas of concern were noted in the survey including:
the current operational tempo
the effect of deployments on children
children's education
spousal employment
financial issues
Representatives from Blue Star Families will be joined by the Senate and House Military Family Caucuses to announce and discuss the survey at a press event September 22, 11:30 a.m. in the Congressional Auditorium of the Capitol Visitor's Center, United States Capitol, Washington, D.C., 20510.
Speakers will include Representatives from the Senate and House Military Family Caucuses; Doug Wilson, Department of Defense Assistant Secretary for Public Affairs; Mrs. Sheila Casey, wife of Gen. George W. Casey, Jr., U.S. Army Chief of Staff; Babette Maxwell, Editor-In-Chief, Military Spouse Magazine; Dr. David Spiltek, Vice President for Programs and Services, Military Child Education Coalition.
Media are invited to attend and cover the event. The event will conclude with a question and answer period and military families and representatives from Blue Star Families will also available following the event to answer any questions. Media are asked to RSVP by 5 PM, Monday, September 20 due to Capitol Police security requirements. Please e-mail lindy(at)lindykyzer(dot)com or call 202-374-4291.
Media outside of the Washington, D.C. area with questions about the survey are encouraged to contact Lindy Kyzer at 202.374.4291.
About Blue Star Families:
Blue Star Families is a national, nonpartisan, nonprofit network of military families from all ranks and services including guard and reserve, with a mission to support, connect and empower military families. In addition to morale and empowerment programs, Blue Star Families raises awareness of the challenges and strengths of military family life with civilian community and leaders. Membership includes spouses, kids, parents, service members, veterans and civilians. For more information, please visit http://www.BlueStarFam.org.
###