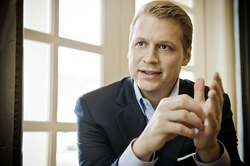 "We're looking forward to adding Wes' voice to Rana's column. Wes brings expertise in investing and personal finance that will greatly benefit our readers." - Chris Kraft, Digital Team Leader for the AJC
Atlanta, GA (PRWEB) September 15, 2010
Wes Moss, host of WSB Talk Radio's "Money Matters", Certified Financial Planner, and Chief Investment Strategist at Capital Investment Advisors, has been named guest financial columnist for AJC.com, the website of The Atlanta Journal Constitution. Wes will be contributing an article every Monday to Rana Cash's "Atlanta Bargain Hunter" blog.
.
Wes is thrilled to be working with the AJC. "On my WSB show, I focus on answering questions about the financial well-being of Atlanta's citizens. I am excited to have another opportunity to provide financial education to Atlanta," says Moss.
The AJC is equally happy to have Wes as a contributor. According to Chris Kraft, Digital Team Leader for the AJC, "We're looking forward to adding Wes' voice to Rana's column. Wes brings expertise in investing and personal finance that will greatly benefit our readers."
"Wes Moss has the steel sword of great advice and information, along with a sincere mission to help others save and invest for the future," says Pete Spriggs, Program Director, AM 750 and 95.5 FM News/Talk WSB. "It will be great to have his reach grow with his contribution to the AJC."
Wes' columns will be posted each Monday morning at 10 a.m. at http://www.ajc.com/go/bargains/ and will cover all areas of finance, including ways to save, investment strategies, and general financial health.
About Wes Moss: Wes Moss is the host of Atlanta's longest running talk radio show, "Money Matters", a call in show where Atlanta's citizens get financial advice. Additionally, Wes is a CERTIFIED FINANCIAL PLANNER™ professional, Chief Investment Strategist at Capital Investment Advisors, (one of Atlanta's largest fee-only advisory firms), and was a contestant on the 2nd season of NBC's The Apprentice. Wes is also the author of two books: Make More, Worry Less (FT Press 2008) and Starting from Scratch (Kaplan 2008). For more information on how Wes and his team can help with your financial needs, please call 404-531-0018 or visit http://www.YourWealth.com.
About The Atlanta Journal-Constitution: The Atlanta Journal-Constitution is the leading source — both in print and online — of news, information and advertising for metropolitan Atlanta, reaching a total print and online audience of nearly 2.2 million people each week. Every month, nearly 2.3 million unique visitors access the newspaper's Web sites, including ajc.com and accessAtlanta.com. The Atlanta Journal-Constitution is part of Cox Media Group, a publishing, digital media and broadcasting subsidiary of Atlanta-based Cox Enterprises.
About Cox Media Group: Cox Media Group, Inc., a subsidiary of Atlanta-based Cox Enterprises, is an integrated broadcasting, publishing and digital media company that includes the national advertising rep firms of Cox Reps. With $1.8 billion in revenue, the company operations include 15 broadcast television stations and one local cable channel, 86 radio stations, four metro newspapers and more than a dozen non-daily publications, and more than 100 digital services. Additionally, CMG owns and operates Valpak, one of the leading direct marketing companies in North America. For more information about Cox Media Group, please check us out online at http://www.coxmediagroup.com.
###