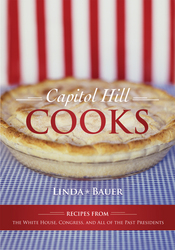 "The blessings and bounty of America are highlighted with "Capitol Hill Cooks." Food enthusiasts will revel in helping our troops." Alex and Jean Trebek, host of Jeopardy!
Spring, TX (PRWEB) September 15, 2010
Capitol Hill Cooks offers the favorite recipes of every president from Washington to Obama plus the favorites of many members of Congress. Help our vets through Homes for Our Troops building homes for those military members who lost limbs or were diasbled during the war with the purchase of this great new cookbook "Capitol Hill Cooks!" (Taylor Trade).
Capitol Hill Cooks is not only full of interesting and historic recipes and food fit for a President, but also includes Congressional recipes with stories as to why they liked certain foods. It is a way to help the troops who served so valiantly. Presidential favorites are interesting, easy and make for the best dinner party you will ever host.
Contact Linda Bauer at (281) 292-6526, email lindabauer(at)gmail(dot)com or bauerbooks(at)gmail(dot)com or Google "BauerBooks".
###