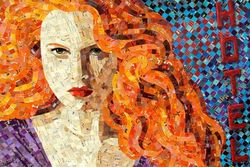 "It's never too late to be what you might have been." - George Sand
Phoenix, AZ (PRWEB) September 16, 2010
Artist Sandhi Schimmel Gold is an example of a woman who re-invented her life by re-using materials that would otherwise go to waste. She is releasing a few original mosaic portraits - the first in a series of emotionally charged artworks influenced by music. The artist's new series, "Emotional Influences" illustrates the links between an emotion, a song and a portrait. For example, "Ever," was inspired by the Buzzcock's song "Ever fallen in love with someone you shouldn't've fallen in love with," and features a passionately angry, but beautiful redhead.
Sandhi Schimmel Gold was as an executive at a largest nonprofit organization. She was successful, but something on a soul level was missing. She worked, came home to her family and after dinner, snuck out to an art studio where she painted until the early hours of morning.
One night, while painting, the lyrics of a Bon Jovi song on the radio struck Gold where she lived... "It's my life, it's now or never...are you gonna live forever?" and something clicked. She wanted to reinvent her life and finally be the artist she was meant to be. The next morning, she gave her notice. She was giving her passion a "second chance."
Gold was an art-room brat in school, but has no formal training. She was once a visual merchandiser, a leather goods designer and spent many years developing a style of portrait painting. After independent study abroad, she taught herself to create amazingly intricate mosaics. She wanted to combine these two art forms to create mosaic pop-art portraits.
Not able to find the mosaic materials needed at hand, the "Eureka!" moment arrived. She turned to scissors and a box of old, used greeting cards, cutting "tiles" from the cards. Affixing these to a painted self-portrait, Gold discovered her "mosaic" embellishment gave her paintings a new life, and the greeting cards a second chance - as art material.
Gold, (now 56) has perfected the concept of upcycling materials that would otherwise go to waste into her art. She demonstrates that junk mail, postcards, menus, photographs and old greeting cards can be transformed into fine art, integral pieces in an amazing, arresting portrait.
The message in her work? Her portraits ask - "where can beauty be found in a society of conspicuous consumption?" - the irony is how she utilizes the very vehicles (advertisements & junk mail) selling wholesale images of beauty - to create her work.
Once in suits and heels, Gold is now a successful full-time, stay-at-home, pajama-wearing artist whose highly desired work is shown in museums, sold in galleries, and in private and corporate collections worldwide. She is soon to be featured on AARP's "My Generation" television series on PBS and AARP online.
To view the series, the entire collection, find galleries or to read more about the artist, please visit http://www.schimmelart.com.
###