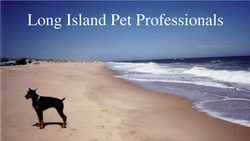 Our geographic locations may differ a bit but the fundamentals of running a networking group and working together in this industry is the same. I am thrilled to expand into NYC, Brooklyn, Queens, Westchester and beyond.
Southampton, NY (PRWEB) September 28, 2010
Long Island Pet Professionals announces the expansion of members in New York City, Queens, Brooklyn, and Westchester. Due to overwhelmingly demand by pet professionals residing outside of Long Island, but wanting to be part of the successful and first of its kind networking group, Long Island Pet Professionals now offers membership to pet pros in New York City and the surrounding boroughs. Networking events and quarterly meetings are currently being planned to accommodate the NYC area by the groups Founder, Nancy E. Hassel. "I wanted to reach out to areas other that just Long Island because I was getting many emails requesting how an individual or company could become a member but lived in Queens or New York City. Our geographic locations may differ a bit but the fundamentals of running a networking group and working together in this industry is the same. I am thrilled to expand into NYC, Brooklyn, Queens, Westchester and beyond," said Hassel.
Long Island Pet Professionals was created by Nancy E. Hassel due to the lack of commodore of people in the pet industry. "No one really seemed to work well together when it came to our pet industry and I wanted to change that. Pet pros and even many rescue groups thought of each other more as competition, instead of seeing the value as a working as united front. I wanted to bring together our industry, like other industries do, to help each other be better at our respective pet businesses and ultimately help the owners and their pets. I mean our pets and our passion for them is what it is all about!"
Having networked for years with other networking groups Hassel always felt a roadblock of sorts, most of the other business people she met might be pet owners but never took the pet industry seriously. "I never felt a real connection with business people at other networking meetings – which seemed odd to me because the pet industry is a tremendous." Long Island Pet Professionals has grown pretty rapidly from starting as a whim on Facebook in February of 2008, to now having over 90 members that are a very diverse and unique group pet professionals. Members range from animal lawyers, pet website designers, pet nutrition companies, pet insurance, pet product entrepreneurs to dog trainers, non-profit dog, horse, bird and animal rescues and shelters to pet photographers and so much more. Many members are already into their second year as being a member, and attend nearly every networking event.
The challenge of uniting everyone on a 118-mile long Island, is simple, Hassel hosts meetings in different areas to try and reach as many people as possible. Meetings have been held in Riverhead, Hauppauge, Massapequa, Floral Park, Lake Ronkonkoma, and Smithtown and more than once in each location. Many members travel all over to attend each meeting and people have come from as far at Jersey City and Staten Island to take part. Expanding into the New York City area allows more members to become part of the growing group and Hassel plans on hosting meetings in different areas in and around NYC.
The meetings are designed to help those new to the industry, seasoned pet pros, and those thinking about getting into it. Many members are new business owners who may have lost their job during the recession and decided to go after their dream of working with animals and owning their own business. Networking events are geared to help those learn the business with expert guest speakers at each event from the business and pet business world and have covered many different topics.
Hassel also started an online magazine called http://www.LIPetPlace.com dedicated to the pet owner. LIPetPLace.com is a fairly new magazine but has already had wonderful feedback and traffic to the site. "Working with pet professionals is wonderful, but I was often getting asked questions from pet owners about many different pet topics, so our online magazine was born. It's a free magazine and many of the articles are written by our local pet experts," said Hassel. There is also a free weekly newsletter that goes out to thousands of pet lovers, with all pet, pet related and nature events happening across Long Island. Hassel has plans to expand that to the NYC and surrounding areas in the New Year.
To become a member is simple just go to the 'Join' tab on the website - but there is a requirement that your business is in the pet industry.
For more information on Long Island Pet Professionals or to interview Nancy E. Hassel go to http://www.LongIslandPetProfessionals.com or email Nancy Nancy(at)LongIslandPetProfessionals(dot)com.
###