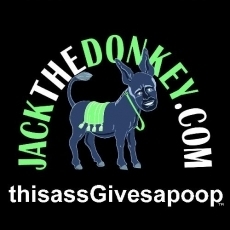 Coming from a long family history of activism and volunteerism, I realized that Jack The Donkey is what I call my Grandfather's Legacy 2.0
Toronto, ON (PRWEB) September 14, 2010
Rich or poor, good times or bad, almost everyone is connected to a cause. JTD provides a free online space where users can 'give a poop' by simply sharing content with other members - JackTheDonkey.com donates 1.1 cents to the charity of the individual's choice for every page viewed. It's fun, helpful, and addictive: The site's popularity has seen more than $6,000 raised for the 24 charities now registered with Jack.
"Coming from a long family history of activism and volunteerism, I realized that Jack The Donkey is what I call my Grandfather's Legacy 2.0," says David Katz, Jack's proud creator and father. "My grandfather, Jonathan Miller, created one of the first "Fun Runs" in Toronto and spearheaded countless other community projects in his time. This is my way of turning a lifelong ambition of activism and outreach and putting it out there in a way myself and millions of others who spend their best hours online can relate to."
Now musicians have the opportunity to directly better the world as well. JTD's most recent sidekick, iGiveapoop.com, allows unsigned bands in any genre the opportunity to get recognized for their music, and their charitable contributions. By making their songs available online for free streaming (generating 1.1 cents in donations for each hit) or paid download, musicians can instantly generate donations for charity. 
The artists set the price for their songs, which range from 55 cents to $1.10 CAD. Two-thirds of the price of each song purchased goes directly to the charities on JTD. Proceeds from iGiveapoop.com are donated to international organizations such as the Ronald McDonald House of Canada, Alex's Lemonade Stand, the MS Society of Canada, the New Orleans Area Habitat for Humanity, which has been struggling to rebuild the homes that were destroyed by Hurricane Katrina, A.D.R.A. Canada who in addition to their work in more than 120 countries around the world are actively involved in providing relief to those affected by the recent floods in Pakistan and earthquakes in Haiti. 
"Growing up, I remember watching benefit concerts to help end the famine in Ethiopia. Just recently, in response to the earthquake in Haiti, music's power to change the world took centre stage once again," says David Katz, JackTheDonkey.com's founding father. "It was an inspiring spectacle that brought attention to the plight of the Haitians and helped raise millions to rebuild the country, but it also made me realize that we don't need a catastrophe for musicians to show they give a poop - And that's where iGiveapoop comes to play."
As an online community, JackTheDonkey.com allows users to do good freely and regularly by "clicking-for-a-cause," uploading, browsing, and interacting with content to generate 1.1 cents for charity with every page viewed. iGiveapoop.com guarantees donations generated for every click as well, but users also have the ability to take their support a step further by purchasing new music. The biggest draw for users, Katz notes, is that there's an element of new music discovery that also helps do good. "Imagine if you could discover the next Lady Gaga or Grateful Dead, before they became famous?" says Katz. "There's a lot of unsigned talent just waiting to be discovered, and iGiveapoop.com is the only place you'll be able to hear them online while generating donations for charity."
Although iGiveapoop just officially launched this past summer, musicians are already hopping on board the only online space where music makes money for charities. "I've been on Myspace for a few years promoting my band and socializing - I must have spent hundreds of hours on there," says Rob Session of NonStopGo. "So when I heard about JackTheDonkey.com benefiting charities just by using the network, I was instantly curious. While I was setting up my account I saw actual money accumulating and I got all warm and tingly. It's fun to be part of such a revolutionary, positive scene that helps so many great causes."
Future plans for the iGiveapoop.com and JackTheDonkey.com include taking their efforts offline by bringing musicians together for fundraising events across North America. First and foremost, though, JTD is working on growing its user base, which just past 1,000 members. 
"The fact is that people all around the world are spending an ever-increasing portion of their time online, specifically on social networks," says Katz. "I'm convinced that mixing online social networking, music and charity will have a global impact. Our users have helped shape the community, and love it because it's easy - It's a free, fun and social way to better the world from your seat."
For further information, visit http://www.JackTheDonkey.com 
Media Contact: 
David Katz, founder 
Email: stayintouch(at)jackthedonkey(dot)com 
Phone: 416-200-7227 
Twitter: http://www.twitter.com/inyourfacebook
# # #