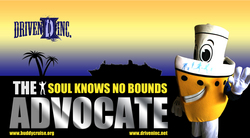 Tampa, FL (PRWEB) September 20, 2010
The "Soul Knows No Bounds" contest winner will be an individual with Down syndrome who effectively communicates his or her own interests, needs, wants and rights. This person has found a way to make a difference in their life by looking beyond their limits and finding their strengths. They have found a way through their own uniqueness to inspire others.
In its 4th year, Buddy Cruise is an annual educational conference onboard a cruise ship. There are workshops, events and networking opportunities with other families from across the globe who share the bond of having a child with special needs. Families who otherwise have a very hard time finding a scenario to meet all family members' needs are accommodated with a variety of activities for all ages and abilities.
The winner will receive 1 night hotel accommodations the evening prior to cruise departure, single inside cabin cruise fare only, and airport to port round trip transfers. The winner will present at least two sessions while onboard. The 2011 Buddy Cruise will take place October 16-23 2011 onboard royal Caribbean's Freedom of the Seas. Departing from Port Canaveral the winner will visit Jamaica, Grand Cayman, Cozumel, and Labadee, Royal Caribbean's private tropical getaway.
The contest, sponsored by Driven Inc., is open to an individual 21 years of age or older who is a legal resident of any 1 of the 50 United States or the District of Columbia. Entrants will be required to submit a photo and an essay explaining why they should be the 2011 Buddy Cruise "Soul Knows No Bounds" Advocate. Video is optional.Complete rules will be made available when contest begins on October 1, 2010 at http://www.buddycruise.org .
Driven Inc. is a lifestyle apparel brand that shares the same vision that inspired those who founded this great nation. We believe through hard work, persistence, and sure will, anything can be accomplished. Driven Inc's goal is to connect with people from every walk of life through powerful images and meanings on high quality apparel.
Buddy Cruise Inc. provides educational opportunities & resources for families, while promoting awareness, acceptance, inclusion & advancement for individuals with Down syndrome. Our events are a forum for prominent educational speakers to address a wide range of Down syndrome & disability related topics.
###