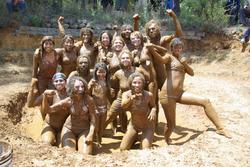 The Bosque is a social experiment set up to offer visitors a taste of rural sustainable community living.
San Francisco, CA (PRWEB) September 15, 2010
The Bosque Village, located in a safe area of Mexico, offers travelers a chance to experience sustainable living – both culturally and environmentally. The ecological retreat center offers classes, workshops, art, meditation, healthy food, and a chance to experience living with very little power and water in a rustic setting.
Set in an 80 acre forest of Pine, Madrone, and Oak trees, the Bosque facilities include solar panels for power, composting toilets, a solar hot water heater, several cabañas, a shared guesthouse, a 3,000 book library, a sauna, rain catchment systems and an art studio. The Bosque Village a permaculture farm which is 'off the grid' - meaning they are not using city power or water. Enough power for laptops and some lighting is generated from solar panels, and water is collected during the rainy season in large cisterns located throughout the village.
Director Brian Fey calls the Bosque a "social experiment set up to offer visitors a taste of rural sustainable community living". Between 3 and 50 people share the space, and work together to host workshops, classes, games, and other activities.
Visitors can expect to experience rustic living. The cabanas do not have electricity and daily showers are discouraged. Despite the rustic setting, visitors tend to find the Bosque a refreshing change from city life, and a chance to understand how little is needed to really enjoy a fruitful life.
COMMUNITY MEALS
The vegetarian meals are simple and healthy. Visitors might enjoy a lunch of hummus, fresh locally grown vegetables, and flour tortillas. Dinners are light; flavorful soup and locally baked bread. All food is included in the nightly rates, and fruit is provided for snacks. Chef Marie Oaks says, "We provide travelers and locals with a taste of how impressive vegetarian cooking can be. The best food is made of natural ingredients. We buy local produce and grow what we can, and accommodate a variety of culinary needs."
Oaks feels that food is a huge factor to consider when evaluating ecological footprints. "We make an effort to buy locally to support farmers in Michoacán and avoid buying fruit grown thousands of miles away. If our visitors can feel like they are eating right, both nutritionally and ecologically, then I have done my job".
Oaks also advocates that tourists need to spend more time sitting down and eating regular healthy meals. "I hear over and over again how hard it is to find economical and nutritional foods while traveling," she says. At the Bosque, volunteers, visitors, and residents sit down to eat lunch and dinner as a community. Conversations flow as people sit together on long tables in the outdoor eating area. The community meals offer visitors a chance to come together as a group and chat through language barriers, age differences, and varying interests.
SUSTAINABILITY
Unlike eco-resorts and hotels that brand themselves with the title "eco" but do little to offer true sustainable tourism, the Bosque Village is an opportunity to learn about a variety of ecological technologies used daily to keep the village life running smoothly.
Solar panels offer a minimal amount of electricity – enough to charge camera and cell phone batteries during the day, and to use a laptop computer for basic e-mail check in. As long as there is sufficient sunlight to charge their electric system, there is a movie afternoon once a week. Don't count on using electricity like you would in a hotel or resort. Part of the idea of the Bosque Village is to encourage travelers to see how little is needed to live a comfortable life. Guests normally don't use power after the sun sets. Candles light the cabañas, and fires provide warmth for evening gatherings with acoustic music and chatting.
Outdoor wood-fired stoves efficiently reduce the village's need to consume propane gas. The stoves assist cooking lunch and heating dinner. There are three wood-fired Lorena stoves in the Bosque, and guests are welcome to learn how to use them to make tea or breakfast.
The solar hot water heater provides a surprising amount of hot water for the shared shower facilities. "Purchasing a solar hot water heater is likely the most easy and efficient way to reduce household consumption of electricity or gas," says Fey.
The wood-fired sauna is used 2 or 3 times a week, and reduces the need for a long shower, thereby conserving water. Sauna days are usually accompanied by an outdoor fire close to the sauna, relaxing and massage inside the guesthouse, and fresh juice to help keep everyone well hydrated.
Composting toilets are located throughout the village meaning that no indoor plumbing is used for toilets. Composting toilets save valuable water and also provide the village with rich fertilizer. The facilities are kept clean and information about composting toilets is posted for interested guests.
A volunteer, Byron, says that the Bosque has "a vision for a better planet and every visitor here takes a little piece of that vision with them and then disperses it out into the world. If we want to improve the way things are, it needs to start with us".
GOOD NEIGHBORS
"To be sustainable we must not forget that we need to maintain good relationships with our neighbors" says Oaks, the cook and a resident at the Bosque. She and Fey walk to nearby villages weekly to chat with friends and create positive relationships.
As the village attracts tourists, the Bosque residents have partnered with local teachers who can offer classes to visitors. Local teachers charge a small amount to interested students; they teach bread baking, tortilla class, knife making, and basket weaving. "By involving our talented friends we are making sure the Bosque will not be a drain on the local economies. Anyone involved in a project must think of their effect on their neighbors."
GIFT ECONOMY
A gift economy is encouraged at the Bosque, so guests lead interesting activities, workshops, and classes. While guests are welcome to participate in the level in which they feel comfortable, everyone is welcome to be a leader. A program board is posted for visitors to schedule events and activities. Visitors have led yoga classes, capoeira, screen printing workshops, paper making, book binding, theater exercises, temezcals (traditional saunas), jewelry making, and more.
One visitor comments, "The people here are rad. I taught yoga yesterday, today someone else will teach dance, another woman is leading meditation. Everyone is sharing what they have to share."
Fey says, "We want to make the Bosque an environment where people can feel free to participate and create. Rather than attending a concert where spectators watch the performers on stage along with thousands of strangers, people here can feel inspired to participate in creating this space. When given the freedom to create, the result is amazing. We see hundreds of people come through here who leave knowing they can lead meditation, or yoga, or whatever; they find the leader and creator in themselves and help others participate as well."
When asked what the gift economy has to do with teaching sustainability, Fey responds that "Cultural sustainability and ecological sustainability are deeply connected. Humans must investigate ways to interact with each other in positive ways. We have to work towards living with each other in a way that doesn't destroy nature and ourselves."
LOGISTICS
The Bosque Village is located in the Mexican highlands, close to the town of Pátzcuaro. Day trips are easily possible with a short walk to a nearby village to catch a collectivo (small bus). Attractions in the nearby towns include artisans, great food of Michoacán, Purépecha culture, and the magical setting of Lake Pátzcuaro.
Because of the remote location and rustic nature of the village, visitors are encouraged to plan well in advance for their trip to the Bosque. A minimum of 3 nights is expected, 5 or more nights encouraged.
Cost is $12-20 dollars per person per night for visitors. Food and activities are included, though there are optional classes offered in nearby villages which cost extra.
###