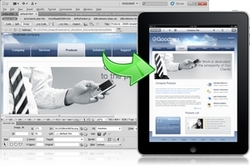 Use iDreamPublisher to publish sites directly from Dreamweaver to iPad / iPhone / iPod touch over WiFi connection, and show them offline, anytime, anywhere.
Dublin, OH (PRWEB) September 15, 2010
MaximumSoft Corp. today announced release of its new product iDreamPublisher. This Dreamweaver extension publishes sites directly to Apple® iPad / iPhone / iPod touch and allows web developers show their work anytime and anywhere, even when Internet connection is not available.
With iDreamPublisher web developers can reach their clients and impress them with site preview on such popular mobile devices as iPad, iPhone and iPod touch.
Web site developers also need iSaveWeb (paid) or iSaveWeb Lite (free) app from Apple's App Store.
In addition to iDreamPublisher, MaximumSoft Corp. provides a wide range of WebCopier™ and WebCopier Pro™ products that help transfer corporate intranet contents to staff desktops, notebooks, netbooks, iPhones and iPads.
Companies use MaximumSoft Corp. products to:

Transfer company's intranet contents to staff desktops, notebooks, netbooks, iPhones and iPads,
Create a copy of companies' online catalogs and brochures for sales personal,
Backup corporate web sites,
Print downloaded websites,
Create PDF copies of their sites,
Analyze websites structure and find broken links.
MaximumSoft Corp. products help Individuals to:

Save complete copies of their favorite sites, magazines, or stock quotes,
Download enormous amounts of information from the Internet for later study,
Analyze websites structure.
WebCopier products are available on Windows, Mac OS X, Linux platforms, as well as on Windows Mobile devices.
MaximumSoft Corp., the developer of several award-winning products, is an offline Web browsing technology developer headquartered in Dublin, Ohio, U.S.A.
CONTACT INFORMATION:
MaximumSoft Corp.
http://www.maximumsoft.com
All product and company names mentioned herein may be trademarks of their respective owners.
###