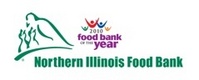 Their ability to distribute food to those who need it is truly a model for our network. We should all take pride in their noble work.
Saint Charles, IL (Vocus) September 21, 2010
Northern Illinois Food Bank (NIFB), a member of Feeding America, received national recognition when the Feeding America network of food banks named it the 2010 Member Food Bank of the Year. This award distinguishes NIFB as being the model organization amongst its peers of 206 food banks across the country. NIFB was recognized for its year of extraordinary growth, and its continued ability to meet the rising hunger challenge by helping neighbors in need.
"To be recognized by your peers as the top organization in your field is an honor that is hard to put into words. Over the past five years, our organization put in place new and innovative programs that brought in more food and provided hungry people with better access to food. The fact that we have been recognized as Food Bank of the Year is great; however, we are humbled by the fact that we are providing food to more than 61,600 hungry neighbors each week. In an economic climate where hunger is exploding in our area and more people need help, this award will fuel our passion and resolve to provide even more hunger relief services to help those in our communities," said NIFB President and CEO, H. Dennis Smith.
In the last 18 months, the number of people in need skyrocketed by 35%, driven primarily by a struggling economy and high unemployment rates, creating an unprecedented need for help. The worst economic downturn in decades has made NIFB's job more difficult, but also more important than ever. Today, Northern Illinois Food Bank provides food to more than 500,000 hungry people each year, a 168% increase since 2006, through 665 agency partner programs in 13 northern Illinois counties. Two years ago NIFB distributed 22.5 million pounds of food; this year Northern Illinois Food Bank distributed 35 million pounds of food through our agency network. Plus, the Food Bank is providing over one million youth meals to children in northern Illinois this year.
Northern Illinois Food Bank cannot rest on its accomplishments due to the rapid growth in the number of people in the suburban counties that need food assistance. The Food Bank has run out of space in its current facility to handle the necessary food needed to meet the increasing demand. NIFB has begun construction on a new Community Nutrition and Food Distribution Center in Geneva, Illinois, which will double NIFB's ability to distribute nutritious food. It has launched a capital campaign to raise badly-needed funds to support the new building.
"The hard working and tireless efforts of the staff and agency partners must continue until we have achieved our mission of creating a hunger-free northern Illinois. The generous support of our donors makes it possible to help thousands of people every week. However, due to the continued growth in hunger need, it is important that all members of our community step up and join us in our collective fight against hunger," Smith added.
For the last seven years, Northern Illinois Food Bank has earned a 4-Star rating from Charity Navigator – a feat accomplished by only two-percent of American charities. Most recently, Charity Navigator recognized NIFB as a "Top 10 Slam Dunk Charity" amongst 5,500 charities nationwide. During those same seven years NIFB earned five national awards from Feeding America for various programs and accomplishments. No other food bank in the nation has had such a record of achievement. As part of the ongoing commitment to evolve in order to meet the changing and growing needs of hungry neighbors, Northern Illinois Food Bank has pioneered several national programs, including: Food Recovery, Express Stamps, SuperSnacks, the BackPack Program, and Hunger Action Month outreach.
"Northern Illinois Food Bank is an incredible asset to its community and to the Feeding America network," said Vicki Escarra, president and CEO of Feeding America. "Their ability to distribute food to those who need it is truly a model for our network. We should all take pride in their noble work."
About Northern Illinois Food Bank:
Northern Illinois Food Bank (NIFB), Feeding America's 2010 Member Food Bank of the Year is a non-profit organization that provides food to all those in need through its partner agencies in the following 13 counties - Boone, DuPage, DeKalb, Grundy, Kane, Kankakee, Kendall, Lake, McHenry, Ogle, Stephenson, Will and Winnebago. Northern Illinois Food Bank acquires, gathers, handles, and distributes donated, government, and purchased food to more than 60,000 different people each week through local food pantries, soup kitchens, shelters, youth activity centers and other food assistance sites. In Fiscal Year 2010 NIFB distributed 35.1 million pounds of food. The Food Bank has recently launched a Capital Campaign to build a Community Nutrition Center and new Food Distribution Center to enable them to handle more food more efficiently to meet the increasing demand.
About Feeding America:
Feeding America provides low-income individuals and families with the fuel to survive and even thrive. As the nation's leading domestic hunger-relief charity, our network members supply food to more than 37 million Americans each year, including 14 million children and 3 million seniors. Serving the entire United States and Puerto Rico, more than 200 member food banks support 61,000 agencies that address hunger in all of its forms. For more information on how you can fight hunger in your community and across the country, visit http://www.feedingamerica.org.
###