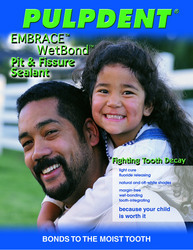 "There's no reason for parents to have to choose between protecting their child's teeth and protecting their overall health."
Chadds Ford, PA (PRWEB) September 14, 2010
The application of dental sealants does not need to expose children to BPA. Safe, approved, BPA-free alternatives are available to dentists and their patients.
Dental sealants are routinely applied to children's teeth to help prevent cavities. While almost all resin-based sealants contain derivatives of bisphenol A (BPA), a controversial chemical that has been linked to health risks, there is one safe exception without BPA or BPA derivatives: Embrace WetBond Pit & Fissure Sealant (Pulpdent Corporation, Watertown, MA).
A study published online Sept 6th in the journal Pediatrics assessed BPA exposures from dental materials and the potential health risk to patients. While the authors did not recommend a ban of these products, they recommended that precautions be taken to reduce BPA exposure during sealant application and said that the development of BPA–free dental materials should be a priority.
Embrace WetBond Pit & Fissure Sealant is the only resin-based sealant that contains no BPA and no BPA derivatives. "This morning alone we received five calls about this issue," says Fred Berk of Pulpdent, manufacturer of the popular Embrace product. "We've been making a BPA-free sealant for nine years. There's no reason for parents to have to choose between protecting their child's teeth and protecting their overall health."
Research with laboratory animals has linked BPA exposure to heart health issues, and increased risk for cancer and diabetes, and hyperactivity. A study by the National Toxicology Program (NTP) of the National Institutes of Health evaluated the possible effects of exposures to BPA on human development. The NTP concluded that there was some concern for effects on the brain, behavior, and prostate gland in fetuses, infants, and children.
Experts are continuing to study BPA and its impact on human health. In the meantime, most experts are advising people to minimize exposure whenever possible.
Pulpdent manufactures high-quality products for the dental profession, including adhesives, composites, sealants, cements, etching gels, calcium hydroxide products, endodontic specialties, and bonding accessories. For more information, call 800-343-4342 or visit http://www.pulpdent.com.
###