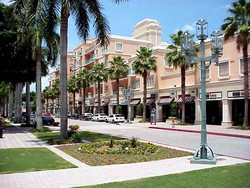 Mizner Park continues to reinvent itself two decades after opening as a national model of new urban development. It has remained the heart of downtown for good reason.
Boca Raton, FL (PRWEB) September 14, 2010
Talk about tempting your taste buds – all 10,000 of them. Tastemakers at Mizner Park, a progressive tastings and cocktail pairings party gets underway September 14 and 15 in Downtown Boca Raton. Chefs from many of Boca Raton's finest restaurants who call Mizner Park home will be serving up specialties. With each tasting, guests will enjoy a perfectly matched cocktail. By visiting http://www.miznerpark.com and purchasing a $25 VIP pass, guests can choose to enjoy all the restaurants on a single night or over both dates (one tasting and pairing per restaurant), along with special discount dining promotions now through October, exclusively for ticket holders.
As Downtown Boca Raton's Mizner Park marks 20 years in January 2011, its well-earned reputation as a 'must-visit' destination. In a single city block unlike any other, Mizner Park invites visitors to spend an hour or an entire day enjoying its rare mix of commerce and culture. Beth Hendrick, Mizner Park marketing manager, said, "Mizner Park continues to reinvent itself two decades after opening as a national model of new urban development. It has remained the heart of downtown for good reason."
In all, Mizner Park now features more than a dozen dining spots and more than 40 shops, along with the Boca Raton Museum of Art, the Schmidt Family Centre for the Arts amphitheater at Mizner Park and Mizner Park Cinema. As a dining destination, Mizner Park is home to new restaurant "anchors", with lively outdoor patio bars. ZED451, at the center's south end, features an inventive menu of modern upscale grilling and seasonal Harvest Tables. Uncle Julio's Fine Mexican Food is an authentic border-style Mexican restaurant making its Florida debut. Villagio's Italian Eatery, with a menu of traditional Italian specialties, and Gary Rack's RACKS Downtown Eatery + Tavern have joined the roster of center court restaurants. A new outdoor bar at long-time favorite Max's Grille and Truluck's, which operates its own fleet of crab fishing boats, draw rave reviews. For pub fare and
late night entertainment, The Dubliner is a hot spot.
Foodies will also enjoy The Cheese Course specialty shop and bistro with over 150 of the world's finest cheeses, presented with expert counsel, education, tastings and events. Also, at The Spice and Tea Exchange, knowledgeable spice experts help guests "tour the world", enjoying the aromas and tastes of traditional and exotic offerings.
Mizner Park is a jewelry shoppers' paradise, too. D. Stern Jewelers offers clients the choice of creating custom-made pieces using their own diamonds and stones or choosing from their vast selection of quality pieces. Les Bijoux has brought a special shopping experience to Mizner Park with its suite of boutiques featuring fine watches and jewelry, including Jaeger-LeCoultre, F.P. Journe, Van Cleef & Arpels and Cartier.
Distinctive boutiques cater to children as well. These include purveyor of trendy children's goods, Genius Jones, favored by stylish celeb moms like Gwyneth Paltrow and Stella McCartney. Janie and Jack is the Mizner Park shop for classic children's clothing.
Francesca's Collections, one of the fastest-growing women's fashion retailers in the country, has made Mizner Park its latest location, bringing shoppers an eclectic, carefully chosen "treasure trove" of gifts, apparel, home accessories and jewelry from all over the world. Swim 'N Sport offers designer women's swimwear and accessories from collections including La Blanca, Calvin Klein, Anne Cole, Jessica Simpson, Ralph Lauren RL Blue, Body Glove and many more.
On the cultural and entertainment scenes, the new Mizner Park Cultural Arts Center, is home to a new black box theater. The popular Boca Raton Museum of Art's 2011 exhibits include Valerio Adami, the European artist, who's work is steeped in political, social and moral mythologies; and Robert Cottingham: Twenty Ways to See a Star, acclaimed photorealist painter and printmaker.
Visitors also will enjoy signature annual Mizner Park events. The March Boca Bacchanal Grand Tasting at Mizner Park invites guests to sample delicious by-the-bite specialties from top local restaurants and an exceptional presentation of more than 100 featured wines.
The Schmidt Family Centre for the Arts' annual Festival of the Arts Boca in March brings notables to the stage. In 2010, these included the Russian National Orchestra, Opera's reigning diva Renee Fleming and literary stars including author Doris Goodwin to town. The Centre's Count de Hoernle Amphitheater calendar features regular Cinema in the Park and a Summer Music Series.
Mizner Park is located on Federal Highway, between Glades and Palmetto Park roads in downtown Boca Raton. For more information, visit http://www.miznerpark.com for a full roster of shops, restaurants, cinema listings and events information, or call 561-362-0606.
###