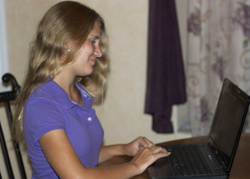 Virtual horse games are great when you can't be riding. And the more they are like having a real horse or pony, the better!
Sarasota, FL (PRWEB) September 23, 2010
Virtual horse games are increasingly popular with girls who love horses, giving them a chance to experience horse care and friendly competition when they can't ride. HorseCrazyGirls. com, a safe, friendly website for girls who love horses, has seen a steady increase in month-to-month traffic - including a 35% increase during August 2010 – primarily from girls looking for horse games to play online. The website provides a directory of horse riding games, and allows users to review and rate them.
HorseCrazyGirls.com has revealed the horse games that have received the most reviews and comments from visitors. HorseIsle came in first with 535 comments and reviews, followed by My Horse Club (534), MyStable (499), Horseland (374), Howrse (307), Show Jumping (265) and Club Pony Pals (265), Pony Island (194), Riding Club (180), White Oak Stables (127), Bella Sara (119), Capalls (117), PonyBox (111), Horse Tycoon (79), Pony Luv (66), and Equiverse (41).
Sydney Rose, founder of HorseCrazyGirls.com and a horseback rider herself, says that the girls who share reviews often comment about features that make them feel like they have a "real" horse, including the ability to ride, care for, groom and breed horses. Competition and riding challenges are also popular. Online horse games are great when you can't be riding," she says. "And the more they are like having your own pony or horse, the better." New developments in online gaming mean many now feature realistic graphics, as well as the opportunity to interact with other riders.
Not all reviews and comments are positive. Negative reviews tend to focus on games that are difficult to play (especially those requiring a program to be downloaded), as well as cost, with most visitors looking for free games. Safety remains a concern, and HorseCrazyGirls.com suggests girls avoid websites with chats or forums that are not carefully moderated.
Sydney notes that horse games for girls attract an international audience. "Girls from all over the world are playing," she says, adding that she has received traffic to her site from girls in more than one hundred forty countries. "Girls who love horses are everywhere." She invites girls to visit her directory to find new games to play, and to share their own reviews.
HorseCrazyGirls.com is a safe, fun place for girls to share their love of horses through equine games, books, photos and more. For more information, visit HorseCrazyGirls.com or contact Sydney Rose at 877-726-6376, sydney at horsecrazygirls dot com.
# # #