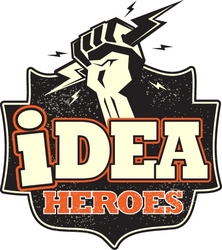 In a nutshell, we concept buzz-worthy marketing ideas and then help execute them.
Saint Michael, MN (PRWEB) September 28, 2010
Minneapolis and Chicago have just found themselves with a couple of real life heroes. Not the kind that could wisk away a tornado from wiping out a small town, but rather, the kind that can wisk away the wasted dollars spent on ineffective marketing campaigns. Meet the Idea Heroes.
Tony Holmes and Dana Severson, Ideator one and Ideator two, have started Idea Heroes as a way to flex their heroic muscles the only way they know how — with good ideas. Not just any good ideas though. Marketing ideas that generate buzz, excitement and complete awesomeness.
Ideator, Dana Severson states, "in a nutshell, we concept buzz-worthy marketing ideas and then help execute them. We're not platform specific, because we're not an agency. We don't go into a project thinking billboard, TV spot or guerrilla campaign. We let the ideas dictate how it is executed."
Although Idea Heroes model isn't standard, Holmes and Severson view themselves as an essential component of any marketing strategy. Severson states, "Every campaign starts with an idea. Just like you wouldn't ask a writer to design, why are agencies asking designers to ideate? Their expertise is in executing design, our expertise is in ideating."
Idea Heroes has representation in both Chicago and Minneapolis, however their clients come from everywhere. Their business is completely mobile, allowing clients in any part of the world to work with them.
To prove their worth, Severson and Holmes started a blog, The Idea Hero, providing selected companies with grandiose marketing ideas and documenting them on Fastcompany.com. The blog has led to several clients thus far, but more importantly, it's provided readers with free ideas that they're free to take.
For more information about Idea Heroes, or to schedule an interview with either of the founders, email Dana Severson at dana(at)IdeaHeroes(dot)com or visit http://www.ideaheroes.com.
###