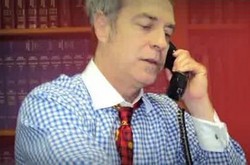 Boston, MA (PRWEB) September 14, 2010
The Law Firm of Dussault and Zatir settles out of court a premise liability case for $35,000.00. This accident occurred as a result of the negligence of a commercial property owner. The owner of a shopping plaza failed to maintain/inspect a sign on the property. The sign in question, was a flag-type sign running between two posts. The sign was attached to the posts with steel wires. The sign had become detached from the steel wires which made the wires extremely difficult to see from a distance. Client was riding a bicycle through the commercial parking lot; and was unaware of the steel wire that ran between the two posts, due to the sign becoming detached. Dussault and Zatir's client rode the bicycle through the posts and was thrown to the pavement when the wire struck our client's face.
Person sustained lacerations of the face and required five stitches to the upper lip. Ultimately, the scarring to client's face healed fairly well and was left with only minimal scarring, barely noticeable to the naked eye. There were no other injuries and the only treatment necessary was emergency room and a follow-up visit with the primary care physician to remove the sutures. After intense negotiations with the insurer, the case finally resolved for $35,000.00.
Dussault and Zatir is a Fall River MA personal injury law firm. They specialize in auto accident injury, serious injury, death claims, and work related injuries in MA and RI.
###