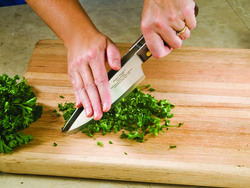 "Why has this never been done before? Probably because of the challenges it raises for safe storage, cleaning, and sharpening. We've solved all three." -Terri Alpert, Founder & CEO
North Brandford, Conn. (PRWEB) September 15, 2010
Cooking Enthusiast presents THE HALF TIME ™ KNIFE, an exclusive, patent-pending knife allowing home cooks to emulate professional chefs and reduce their prep work in half.
After watching restaurant chefs hold two cooks knives together whenever they have large amounts of vegetables and salads to prepare, Terri Alpert was inspired to create THE HALF TIME ™ KNIFE. This unique double-blade design gives you more surface contact and minimizes rocking motion while maximizing chopping capacity for a quicker, finer chop. It has been invented right here in our test kitchen exclusively and manufactured by America's oldest cutlery company.
THE HALF TIME™ KNIFE features:

Two 6" beveled full tang blades made of high-carbon US stainless steel precision sharpened to hold their edge
Easy-to-grip handles sculpted from solid American black walnut for hardness and durability
Quality triple brass riveted handle
A magnetic knife stand for countertop display or in-drawer storage is included
A specially designed brush for easy cleaning is included
Easy to maintain sharp blades with the purchase of the accompanying HALF TIME KNIFE ™ Sharpener for the low price of $9.95.
This must-have kitchen workhorse comes with a lifetime warranty and is backed by Cooking Enthusiast's nearly 20 years of expertise. Special introductory price of $59.95.
About Cooking Enthusiast®
Started in 1993, Cooking Enthusiast (1.800.792.6650/ http://www.cookingenthusiast.com) originally mailed catalogs under the name "Professional Cutlery Direct" and educated the consumer about high-end kitchen cutlery and knives. Today the breadth of the assortment spans all areas including gourmet food and ingredients, kitchen decor and accessories, cookware and cook's tools. We search the world to discover those special treasures that appeal to the passionate cook in all of us – whether you are a trained professional or a casual home chef.
The entire Cooking Enthusiast® operation is run out of our location on the Connecticut shoreline. When you call our customer service department, you are speaking to a person who has been trained regarding each product we sell and have first-hand knowledge of how the item works. Most of our customer service people are also our biggest customers.
Digital photography is available for all items featured in the catalog. To arrange an interview, please contact Cooking Enthusiast, LLC, attn: Diane Humphrey at 203-871-1000 x 114, or email dhumphrey(at)cookingenthusiast(dot)com.
###